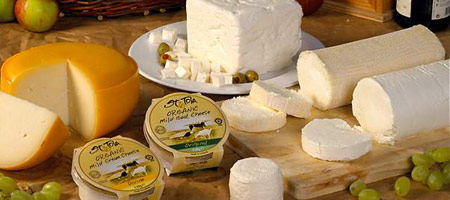 A unique character and distinctive flavour brought to you from the West of Ireland, near County Clare's wild Atlantic coast, St Tola multi award-winning goat cheese has achieved exceptional critical acclaim since its launch over twenty-five years ago.
Over time, Siobhán Ní Gháirbhith and her dedicated team have made significant developments to the family organic farm and the St Tola range and brand. St Tola say they are inspired by the beauty of their natural surroundings and their cheeses reflect the clean, pure environment in which they are produced; flavours that are suggestive of the sea with undertones of peat, flowers and honey. As such, cheese from the St Tola range is now amongst the most sought-after artisan produce in Ireland.
St Tolas 1kg (2.2 pounds)
Mature: The original St Tola cheese and the most well-known in their range. Noted for its smooth, creamy texture, St Tola Mature Log is the ultimate gourmet soft goat cheese. The taste is full flavoured, sweet and floral with honey undertones that develop further as the cheese matures. A natural golden rind develops with ageing and this should be eaten as part of the experience!