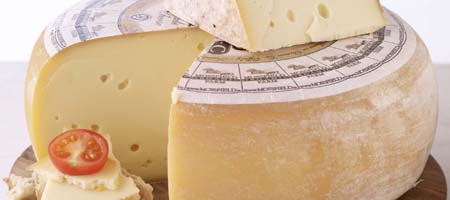 Mossfield Organic Farm is located six miles from Birr in County Offaly at the foot of the Sleive Bloom Mountains.
The majority of the farm consists of limestone pasture which produces lush grass interwoven with wild herbs and clover, this provides ideal grazing for the herd of eighty cows. Ralph Haslam has being farming at Mossfield since 1970 and converted to organic farming in 1999. In 2005 Ralph Mossfield began producing an organic Gouda type cheese which has since gone on to win many awards.
Mossfield Organic Original 4.5kg
Mild, creamy organic cheese in the style of Gouda, nutty flavour as the cheese matures, world cheese award winner 2008.
Mossfield Organic Mediterranean  4.5kg
Mild, creamy organic cheese, in the style of Gouda, with notes of Tomatoes and Oregano.