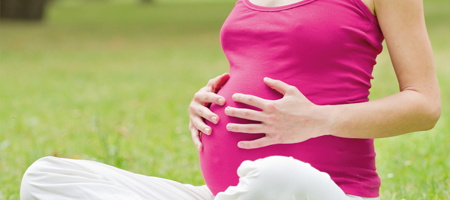 No matter how bad your diet might be normally, most women make a big effort to eat more healthily during pregnancy. Your baby relies on what you eat for all of their nutrition for development. A healthy, balanced diet is essential and you need to choose the right amounts of foods from all of the food groups for good health. Some women also take supplements during pregnancy. This leaflet takes a quick look at some of the supplements that are popular during pregnancy and talks about any benefits they may have.

Folic Acid
This is probably the best known pregnancy supplement. Folic acid is very important for your baby's development – so important that women need to take folic acid for 14 weeks before they become pregnant and for the first 3 months of pregnancy.

How much folic acid do I need?
Normally, we need 200mcg of folic acid per day, but when you are trying to conceive and during pregnancy you need 400mcg per day.This is very difficult to get even on a very healthy diet so you do need to take a supplement.

Omega-3 Fats
The omega-3 fat DHA is very important during pregnancy.  DHA helps with baby's brain development and is important for eyesight as well.You can get DHA by eating oil-rich fish like salmon, trout, mackerel and sardines once or twice a week.However, if you do not eat fish, you will need a fish oil supplement to get the DHA you need.

Fish Oil – Not Fish Liver Oil!
Although fish oils that have DHA are beneficial during pregnancy fish liver oils like cod liver oil are not recommended.  Although cod liver oil is usually an excellent supplement, it does have a lot of vitamin A which can be harmful during pregnancy.So always check the label and make sure it is a pure fish oil and not a fish liver oil you are choosing.

Iron
In the past, almost every pregnant woman was told to take iron.  When you become pregnant, your body starts to make extra blood – by the end of your pregnancy, you will have 25% more blood going around your body than at the start!  Although your body makes more blood, it doesn't always need to add in the extra iron.  This was why so many pregnant women were thought to be low in iron.These days, there is a more accurate test for iron levels in pregnant women, but lots of women are still advised to take an iron supplement by their doctor. The big problem is that iron can lead to constipation in some women.  If this is a problem for you, try switching to another iron supplement – some are easier on digestion than others and different women find different ones easier than others. Speak to your doctor, dietitian or pharmacist for advice.

Multivitamin and Mineral Supplements
Multivitamin and mineral supplements can be used to 'top-up' vitamins and minerals during pregnancy. You will be able to get most of what you need from a healthy diet but if you do choose to take a multivitamin, make sure it is one that is suitable for pregnancy.Pregnancy multivitamins will usually have all of the folic acid you need so you will not need to double up with an extra folic acid supplement.Pregnancy multivitamins also leave out the vitamin A that can be harmful to a developing baby.
If you are not sure about what supplements you may need or about what to eat during pregnancy, contact a qualified dietitian for advice. Check out www.indi.ie or www.sedi.ie to find a dietitian near you.
SuperValu Hazelnuts
SuperValu Hazelnuts 150g
---
SuperValu Brazil Nuts

SuperValu Brazil Nuts 150g
---
Blue Diamond Almonds Oven Roasted Almonds with Sea Salt
Blue Diamond Almonds Oven Roasted Almonds with Sea Salt
---
Blue Diamond Almonds Wasabi Soy Sauce Flavour

Blue Diamond Almonds Wasabi Soy Sauce Flavour
---
Acti Snack Nut Mix Multi Pack

Acti Snack Nut Mix Multi Pack 5 x 35g
---
Chai Bia Milled Chai Seeds

Chai Bia Milled Chai Seeds 315g
---
Beeline Vitamin C 550mg and Zinc Time Release Tablets

Beeline Vitamin C 550mg+ Zinc Time Release is a break through formula as it utilises sustained release technology which ensures the gradual release of nutrients throughout the day. Vitamin C cannot be stored for any length of time in the body and should be taken daily. This advanced formula may help you avoid the misery of colds and flu by providing the renowned immune boosters Vitamin C + Zinc in a balanced and sustained way to meet your body's needs. Available as a time release tablet format which releases nutrients gradually throughout the day.
---
Beeline Vitamin C & Zinc Effervescent Tablets

Vitamin C cannot be stored for any length of time in the body, Beeline Effervescent Vitamin C 1000mg + Zinc tablets are the ideal way to replace Vitamin C lost through colds and flu. Vitamin C plays an important role in maintaining a healthy immune system and helps too fight off infections and we recommend that it is taken daily.
Beeline Vitamin C 1000mg + Zinc Effervescent Tablets Contains as much Vitamin C as 20 freshly pressed oranges. Fast acting, once it reaches your digestive system it is 100% available to your body. Easy to take- delicious orange flavour combines the power of immune boosters Vitamin C + Zinc to provide double action defence against colds and flu. Zinc has been shown to combat cold, viruses and speed up healing of infection.
---
Beeline Iron & Vitamin C Effervescent Tablets

Beeline Iron & Vitamin C Effervescent Double Action Tablets provide Iron (14mg 100% RDA) in a highly absorbable organic complex, which is gentle on the stomach. Vitamin C 80mg (100% RDA) plays an important role in the Iron absorption.
Key Benefits:
Fasting acting once it reaches your digestive system it is 100% available to your body.
Helps Combat Fatigue.
Key to Haemoglobin production.
Helps maintain health and Vitality.
Delicious Cherry flavoured Sparkling Drink.
Suitable for Vegetarians.
---
Beeline Effervescent Ginseng Multivitamins Tablets

Ginseng Natures Energiser. Beeline Effervescent Ginseng and Multivitamins is specially formulated for those with a hectic or demanding lifestyle. Contains all the key vitamins including B Complex vitamins. Their primary responsibility is for producing energy by extracting fuel from food Ginseng known as Natures Energiser is regarded as an essential nutrient that helps to release your natural energy allowing you to cope when the going gets tough. Beeline Ginseng and Multivitamins Effervescent Tablets is in an effervescent format, producing an excellent tasting orange flavoured sparkling drink.
---
Spatone Iron Supplement

Spatone is a 100% natural liquid iron supplement that has been scientifically shown to be a highly absorbable source of iron that is extra gentle on the stomach whilst helping to prevent iron deficiency during pregnancy.
---
Teetha Teething Gel

Nelsons Teetha Teething Gel is a ready-dosed gel that simply rubs into your baby's gums where it gently helps to ease the pain of teething and relieves discomfort.