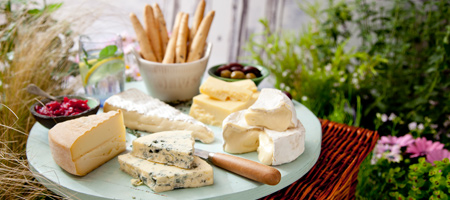 Kevin O'Callaghan tells us how to match our wine with cheese. Why not get some friends around and make an evening of it!
Never serve cheese straight from the fridge, it tastes better at room temperature. Arrange a platter earlier in the day and cover with a damp napkin to control humidity
Keep your cheese platter choices simple when accompanying a specific wine, choose just one cheese, or a selection based on a single style - all from the same milk as an example
When pairing a soft fresh cheese, best to choose from a fresher wine such as a young Sauvignon Blanc from the Loire or Marlborough region or an unoaked Chardonnay like a White Burgundy (Chablis)
Surface-mould ripened cheese is perfectly paired with a rich Chardonnay with some oak, found in Australia or whites from Minervois France.
Semi-hard or hard cheeses have a tangy bite and benefits from the tannin texture of red wines, like a Cabernet or Tempranillo from Rioja
Hard cheese like Parmesan is a great per-dinner treat and is great with a good glass of bubble to get people in the mood for a great evening
If in doubt go for a good port of sparkling - always a good choice!