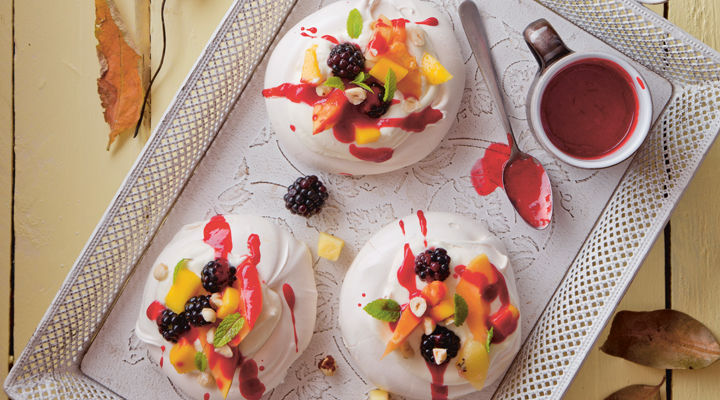 RECIPE OVERVIEW
Very light and tasty gluten free dessert perfect for the summer months.
4

-

Egg

whites only, at room temperature

200

g

Fresh Berries

blackberries, redberries and raspberries

1.5

tsp

Gluten Free Cornflour

1

-

SuperValu Blackberries

1

small

SuperValu Fresh Mint

leaves

1

dstspn

SuperValu Icing Sugar

1

-

SuperValu Passionfruit

seeds scooped out

1.5

tsp

SuperValu White Wine Vinegar
Method
Preheat the oven to 100°C/gas mark ¼. Line a large baking sheet with non-stick baking paper.

It's very important that you use a spotlessly clean, grease-free bowl to whisk the egg whites, as you won't achieve the volume you want if there's any trace of grease in the mixture. Eggs at room temperature ensure good volume too. Clean your whisk attachment and bowl with boiling water before use. Use kitchen paper to wipe
everything dry.

In a food mixer fitted with the balloon attachment, whisk the egg whites until they maintain soft peaks. Gradually add the caster sugar, spoon by spoon, mixing well after each addition. Once all the sugar has been added, run
the mixer on high speed for 3 to 4 minutes. The biggest mistake people make is not mixing it enough, which means the pavlova won't hold its shape.

Put the cornflour and vinegar in a small bowl and mix to a paste. Add to the egg whites and mix well to fully combine.

Place a drop of the meringue on the reverse side of the corners of the baking paper to hold it in place. Alternatively, you could use a silicone baking mat. Put 6 to 8 separate dollops of the meringue mixture onto the lined sheet. Make a slight hollow in the centre of each one using the back of the spoon. This will hold the whipped
cream and fruit when baked.

Bake in the oven for 80 minutes. Leave the pavlovas in the oven, but turn the oven off and leave the door open to allow the nests to dry out and cool completely.

Meanwhile, to make the berry syrup, combine the sugar, lime juice and honey in a small saucepan set over a medium heat and stir until the sugar has dissolved. Bring to the boil, then add the berries and cook at a rapid boil for 1 minute. Remove from the heat and cool slightly.
Transfer to a food processor and blend until smooth, then strain through a fine-mesh sieve. This will keep for several days in an airtight container in the fridge.

For the Chantilly cream, put all the ingredients in a bowl and whisk together until soft peaks form. Chop the fruit into pieces about the size of a blackberry.

To serve, spoon some of the Chantilly cream into the hollow of each pavlova, then top with the fresh fruit. Drizzle the berry syrup over the pavlovas and scatter over
the fresh mint just before serving.
Be the first to add a review.