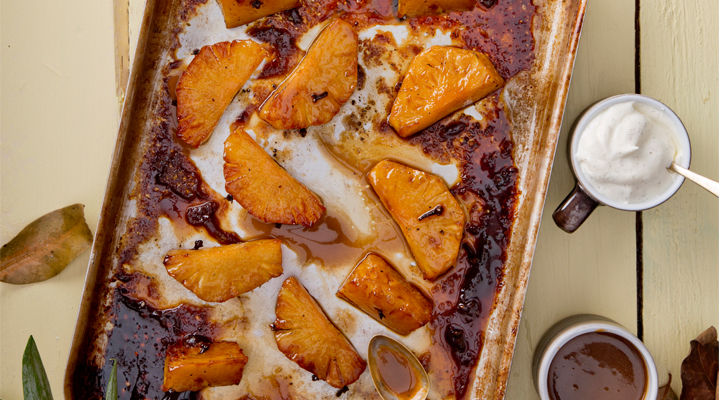 RECIPE OVERVIEW
With juicy pineapple rolled in dark muscovado sugar and grilled to release it's natural sugars and juices, then simmered in a wonderful caramel rum sauce.. yum! 
1

-

Chantilly Cream

to serve

150

g

Dark Muscovado Sugar

100

g

Dark Muscovado Sugar

1

tsp

Mixed Spice

ground black pepper, ground ginger and freshly grated nutmeg

1

-

SuperValu Pineapple

whole, peeled and eyes removed
Method
Preheat the oven to 180°C/gas mark 4.

Stud the pineapple with the cloves. Put the sugar on a
plate, then roll the pineapple in the sugar until it's coated
all over.

Put the pineapple in a large roasting tin. Dot it with pieces
of the butter and roast in the oven for 35 to 40 minutes,
basting every 8 to 10 minutes, until sticky and golden.

Meanwhile, to make the caramel rum sauce, put the butter and sugar in a heavy-bottomed saucepan and cook over a medium heat for 5 minutes. Remove from the heat and add the cream, then return to the heat and allow to reduce for a couple of minutes, until the sauce is thick and creamy. Remove from the heat, then stir in the rum.

When the pineapple is done, remove it from the tin and
allow to cool slightly. When it's cool enough to handle,
cut the pineapple into quarters, remove the core and cut
into slices. Serve with the caramel rum sauce and Chantilly cream on the side.
Be the first to add a review.