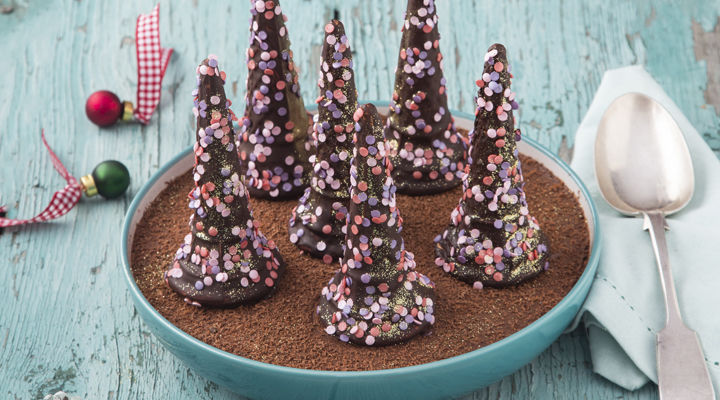 3

-

Eggs

at room temperature

1

large

SuperValu Orange

zest
Method
Line a tray or plate with nonstick baking paper and set aside.
Snap the chocolate into a heatproof bowl set over a pan of simmering water, not allowing the bowl to touch the water, or in the microwave in 30 second blasts, stirring between each go until melted. Remove from the heat, stir in the orange zest and leave to cool slightly.
Place the eggs and sugar in a large bowl and beat with an electric whisk for 5 minutes, until pale, thick and doubled in volume. Dust the cocoa powder over and carefully add the cooled chocolate. Fold in gently until combined.

In a separate bowl, softly whip the cream. Gently fold this into the chocolate mixture, keeping the mixture as light as possible.

Spoon into a 1 litre serving bowl that's about 25cm across and 8cm deep, spreading it level. Cover and chill in the fridge for at least 1 hour, until just set. This can be made up to 24 hours in advance.

Meanwhile, prepare the chocolate Christmas trees. Reserve a square of chocolate and melt the rest as before. Using a pastry brush, paint the outside of a cone entirely with melted chocolate. Holding it over a plate, immediately sprinkle all over with edible sprinkles to stick. Place it flat side down on the lined tray or plate and repeat with the remaining cones. Pop them into the fridge for 30 minutes to set firm. These can be made up to a few days in advance and kept covered in the fridge.
Remove the mousse from the fridge at least 30 minutes to 1 hour ahead of serving to allow it to come to room temperature and soften a little. Finely grate the reserved square of chocolate all over
the top. Carefully arrange the chocolate Christmas trees, flat side down, in the centre of the mousse. Decorate with edible glitter or lustre dust for a final flourish if liked.
Be the first to add a review.