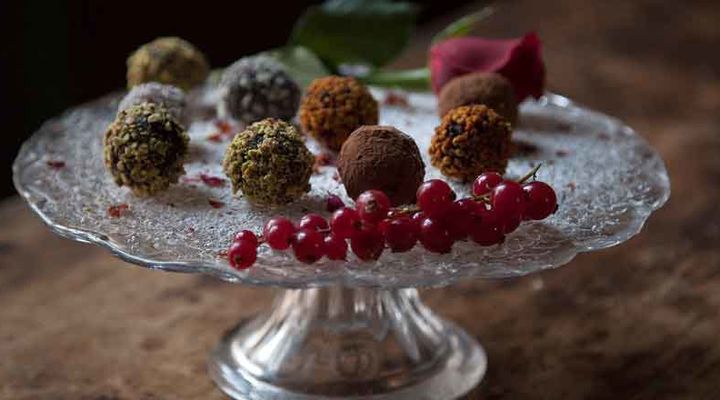 RECIPE OVERVIEW
Tasty valentines treat. Scatter with some dried rosebuds.
Ingredients
4

tbsp

Almonds


chopped, for coating

25

g

Butter


unsalted

2

tbsp

Cocoa Powder


with a sprinkle of sea salt

2

tbsp

Dark Rum




4

tbsp

Desiccated Coconut




150

ml

Double Cream




1

tbsp

Greek Yoghurt




150

g

Quality Dark Chocolate


at least 75% cocoa solids

4

tbsp

SuperValu Goodness Pistachio Nuts


chopped

1

-

SuperValu Signature Tastes Clemengold


zest only
Method
Put the cream, butter and rum and orange zest in a small saucepan and bring these to simmering point.
Break the chocolate into squares and place it in the bowl of a food processor. process the chocolate until it looks granular, like sugar.
Then, with the motor switched on, pour the mixture through the feeder tube of the processor and continue to blend until you have a smooth, blended mixture.
Now add the yoghurt and blend again for a few seconds.
Next transfer the mixture, which will be very liquid at this stage, into a bowl, allow it to get quite cold, then cover it with cling film and refrigerate for 4-5 hours or preferably overnight.
When you are ready to make place the cocoa power in a saucer and roll the truffle into a ball and coat in cocoa, nuts or coconut. Repeat. It gets a bit messy but delicious.
Be the first to add a review.