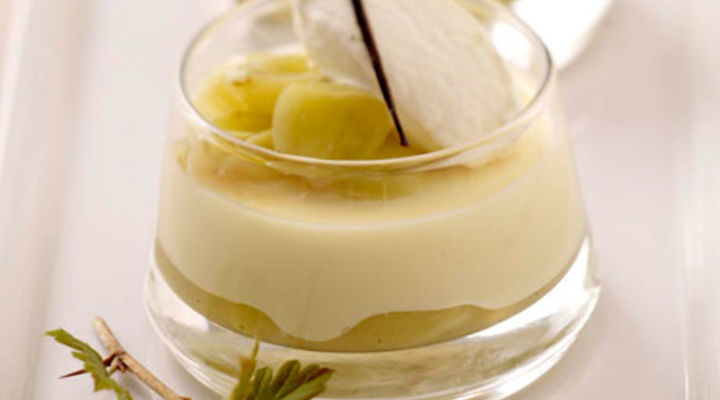 RECIPE OVERVIEW
The sweet creamy mixture and sharp gooseberry compote of this Italian dessert create a fantastic taste.
450

g

SuperValu Gooseberries

0

-

SuperValu Lemon

juiced
Vanilla Pannacotta
0

-

SuperValu Vanilla Pod

or 2 drops of Vanilla Extract
Method
Gooseberry Compote
Wash the gooseberries, drain well and remove any stalks.
Place the gooseberries, caster sugar and water in a medium saucepan.
Add in the lemon juice and the cinnamon stick and bring the mixture to the boil.
Simmer for 10 minutes and then allow the entire mixture to cool down.
Taste the mixture at this stage, gooseberries by their nature are sharp but I like to leave them quite sharp tasting as this compliments the pannacotta, but you can add additional sugar if you wish.
Select 4 medium glasses of your choice and half fill them (or a little less if you would prefer more of the cream.)
Make sure that a spoon will fit to the bottom of the glass!
Vanilla Pannacotta
Soak the leaf of gelatine in cold water for approximately 8-10 minutes, ensuring that it is fully immersed.
Place the cream, vanilla and sugar into a large saucepan and bring slowly to the boil.
Take the boiling cream mixture off the heat and remove the vanilla pod.
Using a sieve strain the water off the gelatine.
Give it a good shake to get rid of excess water and add it to the boiling cream once removed from the heat.
Whisk continuously to make sure that the gelatine has broken down fully.
Divide the mixture between the glasses (no need to fill them up fully as the mixture can be quite rich).
Pour the mixture quite slowly to stop the fruit from getting all mixed up and you will be able to see the two definitive layers.
Chill in the fridge for at least 3 hours and then serve.
Be the first to add a review.