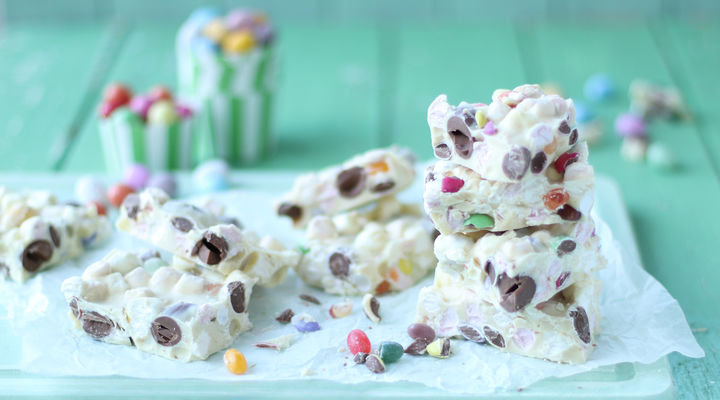 RECIPE OVERVIEW
White chocolate gives an instant twist on a classic rocky road. This is a great way to use up all of that excess Easter chocolate and of course the white chocolate can be substituted for milk or dark. The filling ingredients used here bring plenty of different colours and textures but the list is endless, so be as inventive as you like. There is even scope to use biscuits, dried fruits and nuts too if liked.
100

g

Lindor Eggs

(2 x 80g mini eggs pack)

160

g

Mini Chocolate Eggs

72

g

Smarties

(2 x 36g tubes)

1

portion

SuperValu Sunflower Oil

for greasing
Method
1. Grease a 23cm square cake tin or baking dish with oil and line with parchment paper, leaving 5cm excess hanging over the edges to help with lifting out later.
2. Break the chocolate up into a large heatproof bowl. Either melt in the microwave in 30-second blasts, stirring between each go, or over a pan of simmering water, shallow enough that the water doesn't touch the bowl. When melted, remove from the heat, stir until smooth and leave to cool a little.
3. Toast the coconut in a wide, dry frying pan over a medium heat, tossing regularly, until golden. Remove from the heat and set aside.
4. Once the chocolate has cooled a little, add all the remaining ingredients along with the toasted coconut. Stir together until evenly mixed.
5. Pour into the tin and spread evenly with the back of a spoon. Move any large lumps around to fill any gaps or corners as necessary. Cover and refrigerate for at least 1 hour until set.
6. Lift out of the tin, cut into 12 pieces and stack in a pretty pile on a board to serve. These will keep for up to a week in an airtight container in the fridge (if they survive that long!).
TIP
Used broken up pieces of Easter egg instead of the Lindor mini eggs if liked.
Be the first to add a review.