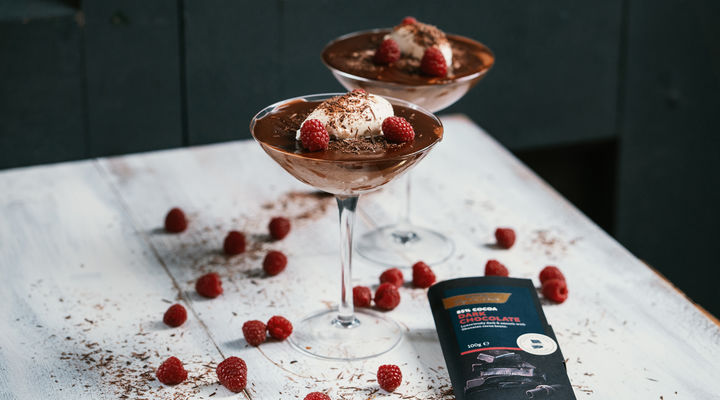 RECIPE OVERVIEW
Minimum effort with maximum impact Kevin's Double Chocolate Mousse is sure to be a winner at your Easter dinner.
For the Chocolate Glaze:
75

g

SuperValu Signature Tastes 85% Cocoa Dark Chocolate

finely chopped
For the Chocolate Mousse:
250

ml

SuperValu Cream

lightly whipped

125

g

SuperValu Signature Tastes 85% Cocoa Dark Chocolate

chopped

100

g

White Chocolate

optional
To Serve:
100

g

SuperValu Raspberries
Method
1. First prepare the chocolate mousse. Melt the dark chocolate in a heatproof bowl set over a pan of lightly simmering water. Once melted remove from the heat and leave to cool slightly for 2 minutes. 
2. In a small ramequin, beat the egg yolks.
3. Then, stir the egg yolk into the melted chocolate using a spatula. 
4. While the chocolate mixture is still warm, fold a third of the whipped cream into the chocolate mixture and then whisk in the rest of the whipped cream. The cream will soften the mixture down and loosen its consistency.
5. In a clean bowl, whisk the egg whites until very stiff and gently fold them into the chocolate cream mixture.
6. Next, melt the white chocolate in a small bowl over a simmering saucepan of water and fold and swirl the white chocolate through the chocolate mousse.
7. Pour into glasses or ramequins and keep aside.
To continue, prepare the chocolate glaze.
8. Pour the cream, honey and water into a pan and bring to the first boil. Remove from the heat.  Pour the boiled cream mixture on the chocolate and combine with a spatula, until shiny and add the butter if using. Leave to cool for 10 minutes then pour over the chocolate mousse.
9. Decorate with a quenelle of whipped cream and chocolate shaving, and a few fresh raspberries.
10. Store in the fridge until ready and remove from the fridge 10 minutes before serving. 
Be the first to add a review.