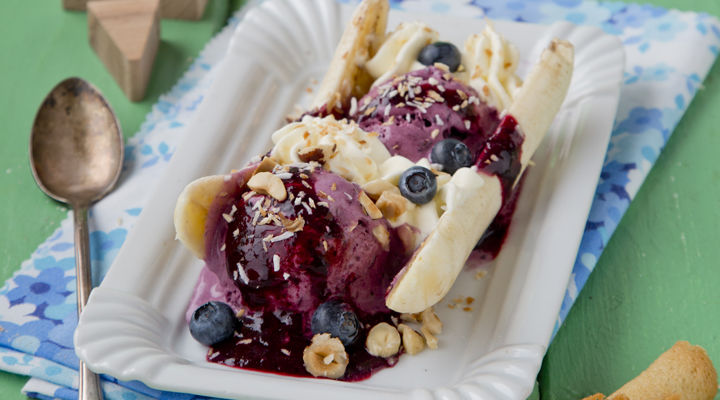 RECIPE OVERVIEW
This refreshing dessert is perfect for the Summer weather. Don't like blueberries? Swap them out for raspberries or strawberries!
4

tbsp

Desiccated Coconut

toasted

100

ml

SuperValu Cream

softly whipped

25

g

SuperValu Goodness Pecan Nuts

or almonds or hazelnuts

4

-

Tuile Straws

optional
Method
Place all but a handful of the blueberries in a small pan with the lime juice and simmer over a low heat for 3 to 4 minutes, until they begin to pop and release their juices. Crush them with a fork as they cook to help this along. Transfer to a mini blender and blitz until smooth. Reserve 4 tablespoons of the purée in a small bowl for serving and set the rest aside for now.
Place the egg, egg yolk, sugar and vanilla in a heatproof bowl set over a pan of simmering water. Using an electric mixer, whisk for 5 to 6 minutes, until really thick and pale. Remove and stir the blueberry purée through until well mixed. Leave to cool completely.
Once this mixture is cool, whisk the cream to soft peaks, then gently fold it through until well blended. Pour into a plastic tub, one where the mixture will be deep enough to be able to create scoops from it once set. Cover and freeze for at least 6 hours or overnight, until set firm.
Remove the ice cream from the freezer about 20 minutes before serving to soften up a little. Use an ice cream scoop to create eight balls.
Arrange two scoops of ice cream in the centre of each serving plate. Peel and split the bananas in half. Place one half on either side of each ice cream portion. Pipe or spoon the whipped cream on top of the ice cream, then drizzle the reserved blueberry purée over. Scatter with the nuts, coconut and the reserved blueberries. Serve with a tuile straw if you like.
Be the first to add a review.