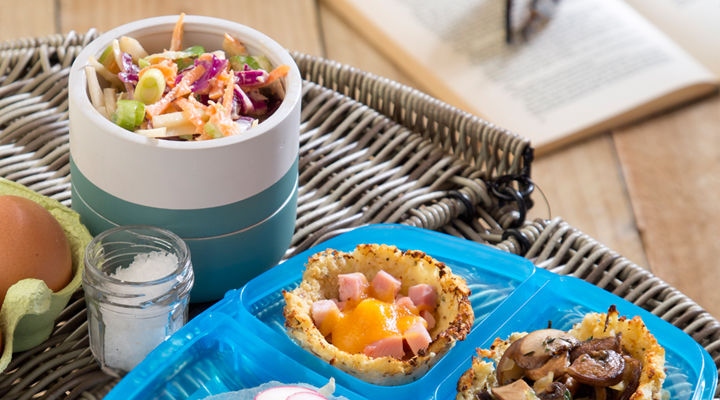 RECIPE OVERVIEW
Experiment with different toppings on these baked cauliflower cups.
Method
Preheat the oven to 180°C/gas mark 4. Line a 12-cup muffin tin with paper cases or non-stick baking paper.
Pulse the cauliflower florets in a food processor until it resembles rice. Transfer to a microwave-proof bowl and cook for 4 minutes on high.
Allow to cool, then tip out onto a piece of kitchen paper. Cover with another couple sheets of kitchen paper and press out as much moisture as possible.
Place the cauliflower back in the bowl. Add the egg, Parmesan, garlic, oregano and a pinch of salt and pepper and mix well.
Divide between the lined cups. Press really well up the sides and in the bottom to compact them into hollow cups, then bake in the oven for 20 minutes.
To make the ham and cheese filling, divide the chopped tomatoes between six of the cups.
Repeat with the diced ham and scatter over the cheese.
To make the mushroom and thyme filling, heat the olive oil in a frying pan set over a medium heat.
Add the garlic and cook for 1 minute, then add the mushrooms and fry for 2 to 3 minutes.
Add the thyme, salt and pepper and cook for 1 minute.
Spoon the filling into the remaining six cups and pop in the oven for 5 to 10 minutes, until the fillings are hot.
To make the slaw, mix all the dressing ingredients together in a large bowl, then add the veg.
Refrigerate until the vegetables soften. Serve the cauliflower cups with the slaw on the side.
Be the first to add a review.