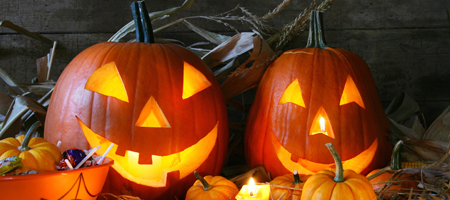 Jack-o'-lanterns are a traditional welcome for trick-or-treaters, a great spooky invitation to drop by for a Halloween surprise. It's something you can make with the leftovers you can't use for cooking and remember, you don't have to be an expert you just need to devote a little time to making your creepy lantern.
Things you will need:
Votive Candles/Tea-lights
Paring Knives
Cooking Oil
Felt-tip Pens
Large Spoon
Pumpkins
Chef's Knives
Pencils
What to do:
Select a fresh pumpkin in a shape that you like. Some people prefer their pumpkins low and round, while others like them tall and oval-shaped. SuperValu has them all!
Draw a circle or hexagon on top of the pumpkin in preparation for making an opening large enough for your hand to reach through.
Cut through the stem end of the pumpkin along your outline with a sharp knife. Use a back-and-forth slicing motion to cut through the thick, tough skin. This should be done under adult supervision.
Remove the stem end, which will act as a cap, making sure you scrape off any seeds or pulp.
Use a large spoon to scoop out the seeds and pulp from inside the pumpkin. Hold the spoon by its bowl to get extra leverage while scooping.
Draw a pattern for the face on the clean pumpkin with a felt-tip pen, or scribe the lines into the skin using a pencil. Be sure to make the eyes, nose and mouth large enough; you'll have a hard time cutting out tiny features when you're using a big knife blade to saw through tough skin. We have pumpkin faces below to download and print out.
Follow your pattern as you cut all the way through the pumpkin.
Push the cut-out features gently from the inside of the pumpkin and discard the pieces.
Place a votive candle or two inside the pumpkin to create an eerie glow.