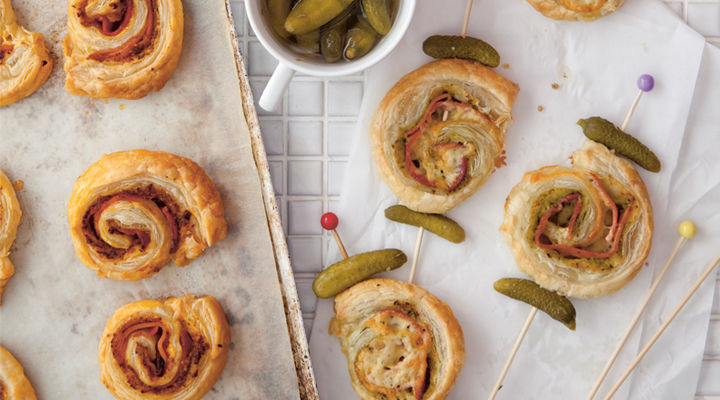 RECIPE OVERVIEW
Stock up on fresh ingredients at your local SuperValu deli for the perfect picnic snack. These pinwheels are delicious served on a skewer with pickles. 
1

pack

Puff Pastry Sheets

thawed

180

g

Sundried Tomato Pesto

180

g

SuperValu Basil Pesto

200

g

SuperValu Cooked Premium Ham slices

200

g

SuperValu Sliced Cheddar Cheese
Method
Makes approximately 36 pinwheels.
Preheat the oven to 190oC/gas mark 5. Line 2 baking trays with non-stick baking paper.
When the pastry has thawed and is pliable, unroll each sheet onto the paper it comes wrapped in. Spread the basil pesto evenly over one pastry sheet, leaving a 2cm edge clean along one long side. Top with half of the ham, then add the cheese slices, again leaving the edge clear.
Brush the edge with the beaten egg, then roll up the pastry, sealing it by pressing gently. Roll it up in the paper and refrigerate while you make the second one.
Repeat the process, but this time use the sun-dried tomato pesto and just the ham, no cheese, and roll up as before.
Cut the pastry rolls into slices 1cm thick, then place on the lined baking trays and bake in the oven for 8 to 10 minutes, until crispy and golden brown. Allow to cool slightly before moving them off the sheet. 
Be the first to add a review.