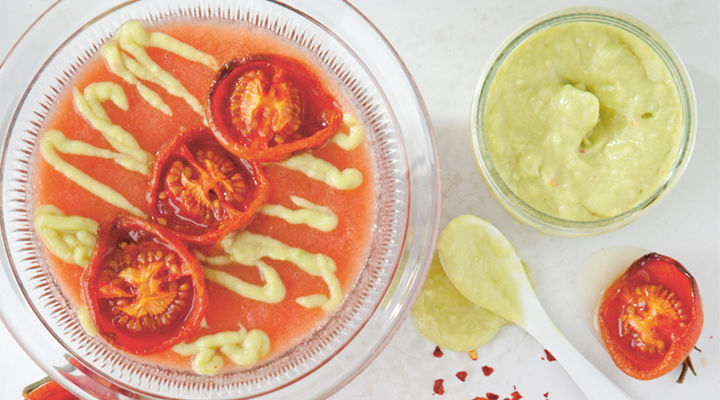 RECIPE OVERVIEW
This take on the classic Spanish gaspacho chilled tomato soup skips the traditional breadcrumbs, so it's gluten free. 
Ingredients
3

large

SuperValu Ripe Vine Tomatoes
For the Avocado Salsa
0.5

tsp

SuperValu Chilli Flakes
Method
Preheat the oven to 140oC/gas mark 1.
Cut the vine tomatoes in half and place on a baking sheet. Drizzle the tomato halves with olive oil and sprinkle with a pinch of sea salt. Roast for 30 minutes, then leave to cool to room temperature. 
Cut the avocado in half, remove the stone and scoop out the flesh. Place in a blender with the chilli flakes and a pinch of salt. Blend with enough olive oil to form a thick purée. Place in the fridge to chill for at least 30 minutes.
Place the garden tomatoes in a large heatproof bowl and pour enough boiling water over them to cover them. After a minute, drain them, rinse in cold water and peel off their skins.
Roughly chop the tomatoes and transfer the flesh in batches to a sieve, pushing the flesh through the sieve into a bowl with the back of a spoon. Scrape the underside of the sieve to ensure all the tomato pulp goes into the bowl. Add a teaspoon of sugar to the tomatoes and a good pinch of salt. Keep at room temperature.
To serve, pour the soup into small bowls. Add half a roasted tomato to each bowl, then drizzle with the puréed avocado salsa. 
Be the first to add a review.