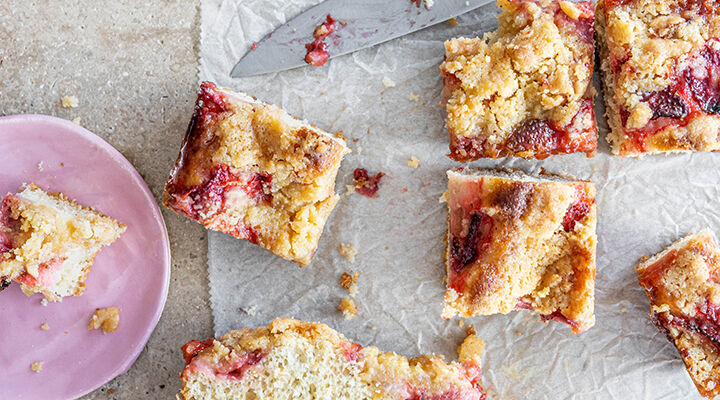 FOR THE BUN BASE
1

medium

Lemon

, zest only

250

g

Strawberries

, sliced
Method
Start with the base, put the oil, warm milk, and yeast in the bowl of a freestanding mixer. Bash the cardamom pods, whole, in a pestle and mortar. Remove the shells and bash the seeds until fine. Add this into the wet ingredients with the flour, sugar, salt, and egg. Knead for 5-6 minutes in the mixer until super spongy and smooth.
Leave the dough in a greased bowl, covered with cling film overnight in the fridge (it will puff up and double in size). You could also leave this at room temperature to prove for about 2 hours.
Grease an 8 inch square baking tray. Remove the dough onto a clean work surface and roll to the size of the tin. Place the dough into the tin, it should be snug to the sides. Press indentations with your fingers across the top of the dough. Toss the strawberries in the melted butter and light brown sugar. Scatter over the dough, wrap in cling film and leave to rise for at least 1 hour at room temperature. When it is ready to bake, it will have risen quite a bit.
Preheat your oven to 180°C.
For the crumb top, put the melted butter in a large bowl along with the sugars and flour, set aside for 15 minutes for the sugar to soak up the flour. Scatter this over the top of the dough.
Place the tray in the middle shelf of the oven and bake for 20 minutes until risen, golden and bubbly.
Allow to cool and cut into squares.
Be the first to add a review.