Irish beef is considered by many to be the best in the world.
Our cattle graze on green pastures for most of the year (unlike in other parts of the world where cattle are raised on a diet of corn). And, since we have the best climate to keep those pastures green, the character of our meat develops in a full and natural way.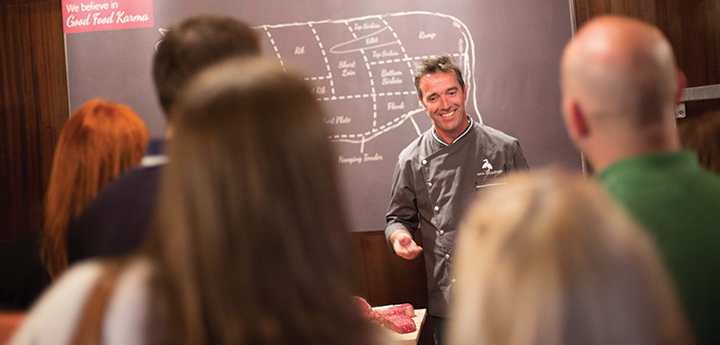 SuperValu have been working tirelessly with their suppliers for the past two years to establish their 'Better Beef' campaign, and I have been lucky enough to showcase some of this better beef at a wonderful launch event held in a pop-up restaurant at No. 30 Dawson Street back in May. Here we showcased the best of Irish Beef, which you can find at your local SuperValu.
There are some important factors that have made SuperValu the prime source for quality Irish beef.
SuperValu source their beef from trusted farmers with well cared-for herds across Ireland. They have worked with their suppliers to improve the processing method, which has resulted in more tender beef. And, the beef hanging process has been changed: carcasses are now hip-hung rather than foot hung, which further increases the tenderness and juiciness of the beef. SuperValu beef is also matured for a minimum of 21 days, resulting in luxuriously succulent beef with richer flavour.
I know from meeting so many parents around the country, who experience time constraints and busy family lives, how important it is to get the right cut of meat for the right occasion. The relationship between the butcher and the customer is vital, which is why each SuperValu now employs a craft butcher. These butchers are only delighted to share their knowledge of the 'farm to fork' journey, and advise on what cuts to use when. If you're keen to explore new recipe ideas, keep a lookout for my flyers in store. In-store butchers can also offer sound advice on how to prepare the perfect steak, and will cut your beef to your required thickness. For the hungry man, a cut of 2–3 cm thick is appropriate.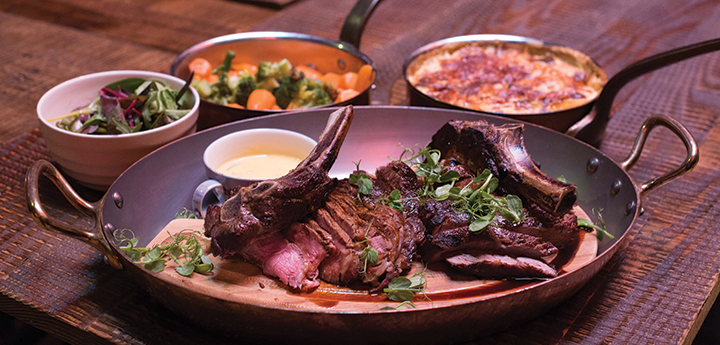 There are many lovely recipes on the SuperValu website for steaks and accompaniments, such as peppercorn, and wild mushroom cream sauce. One of my favourites is a simple béarnaise sauce, but it's one of the nicest sauces to accompany beef that I know! When the beef is as good as it is from SuperValu, the flavour of the beef will speak for itself. So don't complicate it!
Another simple idea is to add some flavoured butters to steaks. There's a fantastic range of flavoured butters available in-store from Improper Butter: lovely chilli-flavoured butter, and garlic and herb – to name a few. Why not try your own flavoured butter ideas. How about wild garlic (or garlic ) butter, herb butter, black pepper butter or rosemary butter sauce. And, don't forget the onion rings, which are the perfect accompaniment to any steak.
If you are interested in making garlic butter, simply take 100g of butter, the zest of half a lemon, 3 garlic cloves, chopped, 2 tbsp pf chopped flat leaf parsley and salt and black pepper to season. Place the butter in a bowl and beat until softened. Add the lemon zest, garlic and parsley and mix thoroughly. Taste and season with salt and pepper is necessary. Then roll the butter into a cylinder shape, wrap in cling film and chill until required. Replace the garlic with chilli for chilli butter.
My ultimate roast beef dinner is made using a rib of beef with the bone in. Serve it with Yorkshire puddings, roasties and gravy and the compliments will fly. Other suitable joints for oven-roasting are sirloin, strip loin, and fillet. Slowly cooked joints such as brisket and silverside are in favour right now, and available at a SuperValu near you.
And remember – remove your joint of beef from the fridge a good hour or two before cooking. By bringing it to room temperature you ensure a more accurate cook time.
Kevin
Here are the recipes... now get cooking!