Anyone can make bread and my first lessons came from my mother. As a child, my sister and I really looked forward to the aroma of freshly baked bread just out of the oven and it rarely had time to cool down before we cut thick slices and slathered it with melting butter.
Sometimes we added a big chunk of cheese but more often than not a spoonful of homemade jam made our snack complete.
At home I regularly make bread with the assistance of my son Tom, who like me as a youngster, is keen to watch and learn and help me in the kitchen. Sometimes if I make too much dough, I use the excess to make bread rolls and freeze them, so I am never short of bread for school lunchboxes.
Bread is best stored at room temperature, preferably covered with a clean kitchen towel to keep any unwanted visitors away. During recent filming for my new TV series I had the pleasure of visiting John Murphy's traditional mill in Enniscorthy where they produce Uncle Aidan's Flour. Here they use locally sourced wheat which is slowly ground between rotating French burr stones powered by the nearby Urrin River.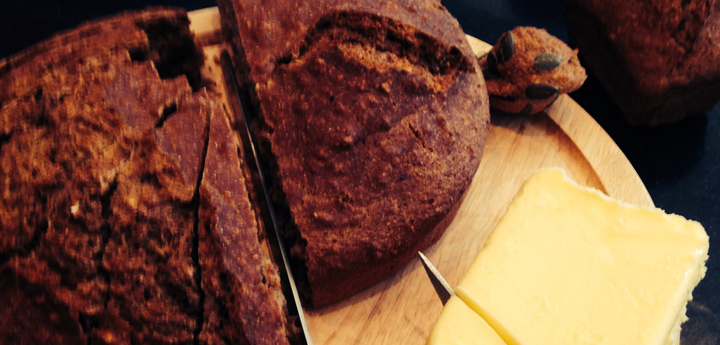 Bread is best stored at room temperature. One of the keys of successful breadmaking is understanding your ingredients and how they react together.
There are two basic categories of bread: bread that uses yeast which needs to proof before baking, and soda bread which doesn't require proofing and rises during baking.
When making bread with yeast you should use strong flour which has a higher gluten content for added stretch. And if you are trying to avoid additives then choose organic, unbleached strong white flour.
If you have a gluten intolerance, you need to use gluten-free flour, available in SuperValu stores. These flours tend to be denser so a little extra yeast may be added to make a more open texture. Check out my recipe from gluten free bread.
Yeast is yet another important ingredient in breadmaking and there are three different types: fresh yeast, dried yeast (which you need to add warm - not hot - water to) and fast-active dried yeast. Dried yeast is by far the most convenient to use as it can be stirred into the dry ingredients for immediate use.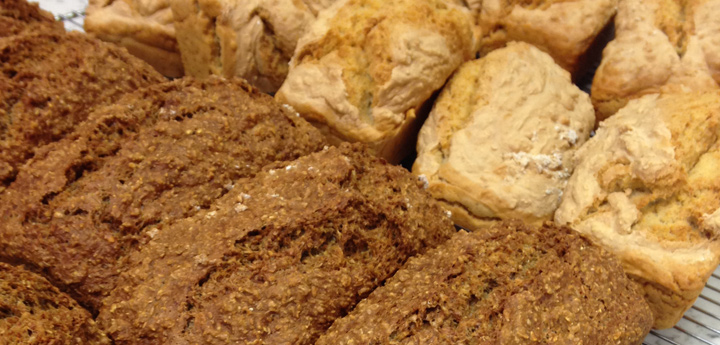 When making soda bread, buttermilk is a vital ingredient. Buttermilk is what's left when whole milk has been churned to make butter. It's the acid in the buttermilk reacting with the bicarbonate of soda (bread soda) which causes the bread to rise and ensures a nice light texture. Buttermilk is readily available in supermarkets, however if you run short you can use some soured milk which can be made by adding some lemon juice - or vinegar as a last resort - to whole milk.
Here at Dunbrody we make our own bread every day for the restaurant: white, brown and gluten free loaves for breakfast, bread rolls and flavoured breads for the evening, and there's no waste – all leftovers are used as chicken feed, keeping my girls (hens) in the garden happy!
Kevin
Here are the recipes... now get cooking!