Many of the modern techniques and flavour combinations used throughout the world today come from France.
French cuisine is considered 'la crème de la crème' in the culinary world, with their amazing pastries, cheeses, breads and wines, not to mention the five 'mother sauces', which include Béchamel, Veloute and Espagnole. And I must mention the 'Roux', a paste made from equal quantities of fat (normally butter) and flour, which is used to thicken these sauces.
Béchamel is probably the simplest of mother sauces, as it requires no stock. It's simply made by thickening hot milk with flour and butter, and is usually flavoured with onions, cloves or nutmeg, and cooked until velvety smooth. It can be added to a selection of seafood to make a good fisherman's pie, or is fantastic with cheese to make a great cauliflower cheese.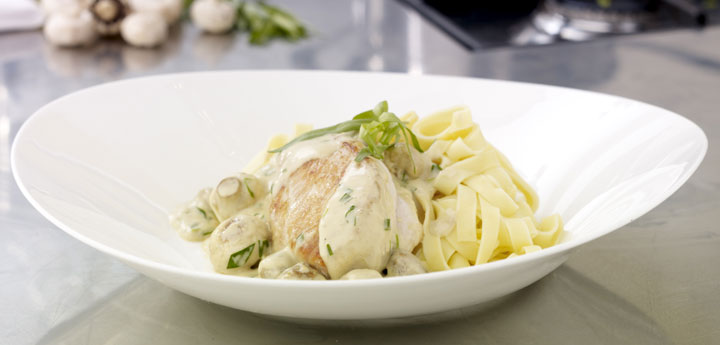 Veloute is a sauce made by thickening a white or fish stock with roux, then simmering it for a while. See my recipe for chicken supreme with tagliatelle, a surprising quick and tasty family recipe.
Espagnole is a popular sauce made using a brown (i.e. beef or lamb) stock, with the addition of tomato puree and mirepoix, which makes for a deeper flavoured and coloured sauce.
My French onion soup recipe is an easy to follow starter - or 'Hors d'Oeuvre' - that is full of flavour and great to enjoy with family and friends. It's also delicious when reheated the next day.
Coq au Vin and Beef Bourguignon are tasty rustic French dishes known for their hearty flavours.

And another favourite French dish of mine are crepes - lovely moist, thin pancakes made from flour, sugar, eggs and a bit of vanilla flavouring or with added spices for a savoury version. See my Crepe Suzettes with strawberries and cream or creamy seafood crepes with a lemon herb crust. Remember when making crepes to use a non-stick pan with a heavy bottom and lots of butter!
Some popular French desserts are made using choux pastry.
Profiteroles, the perfect party finger food or a variation of these, the éclair, which are lovely crisp pastries filled with vanilla flecked cream and covered in chocolate ganache. They can be popped into your mouth in one go, naughty but very nice.
For me the best finish to any meal is a decent cheeseboard with a good French wine, a selection of French and Irish cheeses, including a Brie and goats cheese, served with strawberries, grapes, crystallized ginger and honey, or simply a baked Camembert with some breadsticks. Delicious!
Kevin
Here are the recipes... so get cooking!