Now that summer's in full swing, I hope you've had the opportunity to have a barbecue or two, particularly at any family or friend get-togethers.
We've had the barbecue uncovered for most of June and July, happy to ignite it whenever the opportunity presented itself. My daughters Emily and Sophie have been particularly helpful this year, by threading the skewers and washing the salads. Tom, our youngest, is a great man to help set the table, and getting the cold drinks from the fridge for his Dad is his favourite job so no complaints from me!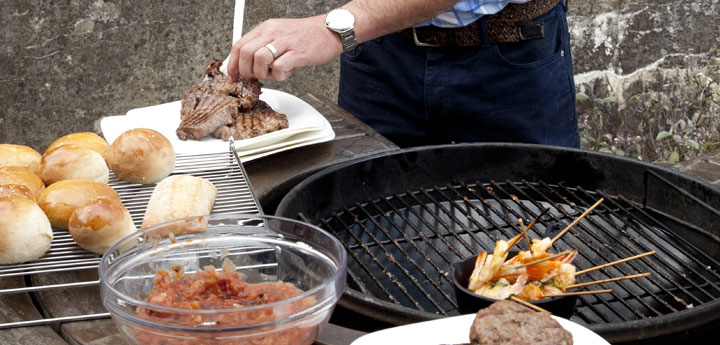 When preparing for a barbecue at home, here are my top tips to ensure perfect results every time:
Gather your utensils in advance and have all your prep done - there's nothing worse than the barbecue reaching the perfect temperature to cook your steaks when you're caught under a mountain of vegetable or salad preparation.
Make sure your grate is clean before your start cooking - I do this by scrubbing it first with a wire grill brush, then using some oiled and folded kitchen towel held between tongs, which I brush along the grate. This oils and cleans the grate at the same time.
At this stage anyone who regularly cooks on a charcoal barbecue knows it's important there's a light layer of ash on the coals before the barbecue is hot enough to start cooking. As a general rule if you can hold your hand over the hottest part of the barbecue for more than 2 seconds, don't start cooking yet!
To manage flare-ups on the barbecue, first let your marinade drip off before placing the meat on the grill. When there is a flare-up, just remove the piece of meat to a cooler part of the grill, cover it temporarily, or alternatively use a water spray. Once the flare-up has burnt off, continue to cook as normal.
Where possible try not to move the food too often as this will allow meats, particularly steaks, to sear properly and not stick to the grill. And remember that when cooking on the barbecue you can always put food back on the grill but with overcooked meat there's no going back! 
When meats are removed from the grill, before slicing you should rest them for 5 - 15 minutes, depending on the thickness of the meat. This allows the juices to be redistributed for tastier results.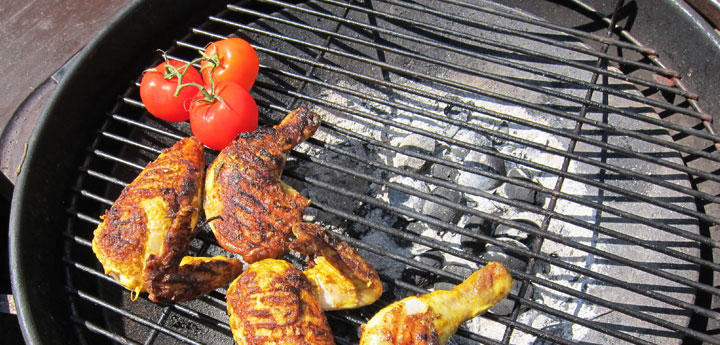 One of my favourite recipes this summer has to be tandoori chicken - pieces of chicken, marinated in a spiced yogurt to help tenderise the meat. You'll find the recipe below, but first check out this video "How to Joint a Chicken". And remember with chicken, it's important to check how well it's done, and the best way to do this is checking its temperature with a meat thermometer. Experts recommend that chicken should have an internal temperature of 70 - 75C°, but if you don't have a thermometer to hand, look for the different colour as the meat cooks. The breast meat should change from pink to white, and the leg and thigh meat should change to a pinkish brown when cooked.
Another family favourite is pork ribs. They're fun to cook, delicious, yet messy to eat.
If you want perfect ribs they do take time to cook so be prepared - the secret is slow and low! Cook ribs over an indirect heat with a pan of water underneath them, this will not only catch the fat that drips down and prevent flare-ups, but the steam that evaporates will also help keep the meat moist. To get a nice crunchy outer skin and juicy, tender meat, a rack of ribs can take 3 – 4 hours to cook. And if you plan on using a sauce on your ribs, only brush it on for the last 10 minutes or so of cooking. As most sauces have a high sugar content, it can burn and result in blackened ribs, definitely not the right result after your hard efforts.
Living so close to the fishing villages of Duncannon and Kilmore Quay, I often get offered fresh fish as they come off the boats. One of the most abundant fish available at this time of the year is mackerel, and I just love it! The nearby Hook Peninsula becomes a side-by-side fishing hotspot during the summer months, with people arriving in their droves laden with rods and bait. Once the tide is in, they fish until their buckets are full. Try my smoked mackerel with redcurrant sauce recipe below, which uses the barbecue as a method of both cooking and smoking the fish.
Kevin
Here are the recipes... so get cooking!