It's high summer and everyone you meet seems to be jetting off or just back from somewhere far-flung. One of my first questions is always, 'how was the food'?
I grew up in a pre-budget-airline Ireland and still remember the mystique and glamour of those families who could get away to 'the continent' every once in a few years. I was a young teen before an inheritance windfall saw me and my family load up the car and hop aboard the ferry to Le Havre. The adventure started at the boat's buffet, where we tucked into some particularly tasty, skinny strips of chicken before it was revealed that they were frog's legs we had just devoured. I've never really looked back.
Many of most treasured food memories overlap with my most treasured travel memories
And even those less-than-delicious destinations had something positive to offer: the mud-thick Turkish coffee and dense pastries on a school trip to Communist Russia; the Hare Krishna restaurant in post-Communist Prague that saved me from a summer of unidentifiable meat and dumplings.
I turned 25 in a gorgeous old pearl diving town called Broome, perched on the northwest coast of Australia 600km north of the nearest town. I was waitressing by night and lounging on Cable Beach by day (voted one of the world's best beaches for good reason). On the eve of my birthday I got offered a job as a cook on a four-wheel drive tour through the very remote and utterly spectacular Kimberley, a vast orange land ruled by snakes, crocodiles and wedge-tailed eagles. Dinosaurs wouldn't look out of place.
Fast forward a week, and I found myself surrounded by swollen-bellied boab trees, standing at a trailer kitted out with a two-ring gas stove, stirring a massive pot of chicken marengo that would feed myself, the driver and a dozen passengers once their vehicle returned from their gorge trek and swim.
I had first heard of chicken marengo in a Jeanette Winterson novel featuring a young Frenchman whose world travels begin in Napoleon's ranks as a wringer of chicken's necks. The story goes that the cook wanted to make chicken à la Provençal to celebrate Napoleon's victory at the 1800 Battle of Marengo in Italy's Piedmont, but had to make do with local ingredients such as crayfish and a garnish of fried egg. Later versions of the recipe incorporated black olives and mushrooms. Recipes are like that – they tend to grow legs and adapt to who is cooking them and where. Why not try out my seafood marengo - this seafood casserole is loosely based classic chicken marengo and a perfect way to celebrate great Irish seafood.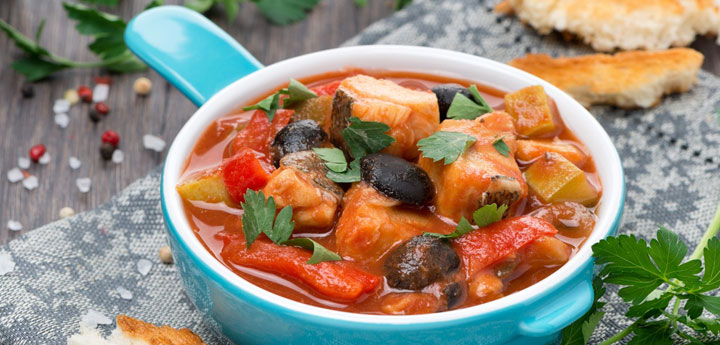 In that telescopic moment standing stirring in the outback, the world seemed both vast and tiny, a place you could truly get lost in and yet interconnected by threads of culture and history – and where the question of what to eat for dinner might pull us in unexpected directions.
That particular trip pulled me in many unexpected directions, and I collected many favourite food memories along the way. Burritos from San Fran's Mission before a night of dancing. Poisson cru (a coconut-based Tahitian take on ceviche) eaten beachside from a coconut. Pad Thai on Bangkok's neon-lit streets and and chilli-tastic green papaya salad in dusty northern Thailand border towns.
How lucky are we to live in an age when such food adventures are so easily accessed, whether by jumping on an airplane or by recreating these global flavours in our very own kitchens.
If you're feeling intrepid, I've gathered a few dishes together inspired by my various adventures which are available below. Happy travels!
Aoife