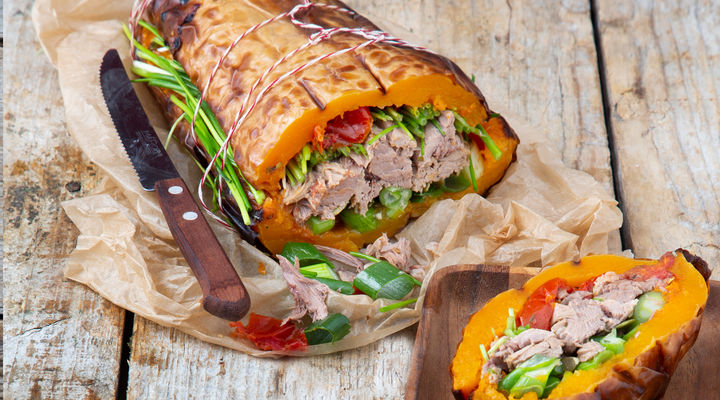 RECIPE OVERVIEW
This Stuffed Butternut Squash is perfect for picnics.
1

-

SuperValu Butternut Squash

20

g

SuperValu Fresh Chives

1

portion

SuperValu Signature Tastes Sicilian DOP Extra Virgin Olive Oil

120

g

SuperValu Slow Roasted Vine Tomatoes

300

g

Two Silver Hill Confit of Duck
Method
1. Preheat the oven to 200°C/gas mark 6.
2. Cut the butternut squash in half lengthways. Scoop out and discard the seeds, then put both halves on a baking tray, cut side up. Drizzle a little olive oil on top of each half. Bake in the oven for 30 minutes.
3. Remove the duck legs from their packaging and place on a wire rack set over a baking tray. Place in the oven and cook along with the squash for a further 25 minutes, until the duck is slightly crisp and the squash is soft and tender.
4. Remove the squash and duck from the oven and allow to cool. Scoop out the flesh in the centre of both squash halves, leaving a 5cm border all around.
5. Once cooled, shred the duck with two forks, then toss the shredded meat in the oil from the tub of vine tomatoes.
6. Trim the spring onions and cut in half lengthways. To assemble, layer the spring onions, dressed duck, uncut chives and tomatoes in one half of the squash, then top with the other half. Tie the two halves together with kitchen string and place in the fridge for at least 2 hours.
7. To pack and serve, wrap the squash in two layers of greaseproof paper and pack in a basket with plates, a bread knife and plenty of napkins. Cut into thick slices and serve on plates.
STOP FOOD WASTE
Make sure to save the cooked squash from this recipe, which you can freeze and use later for a summer soup.
Be the first to add a review.