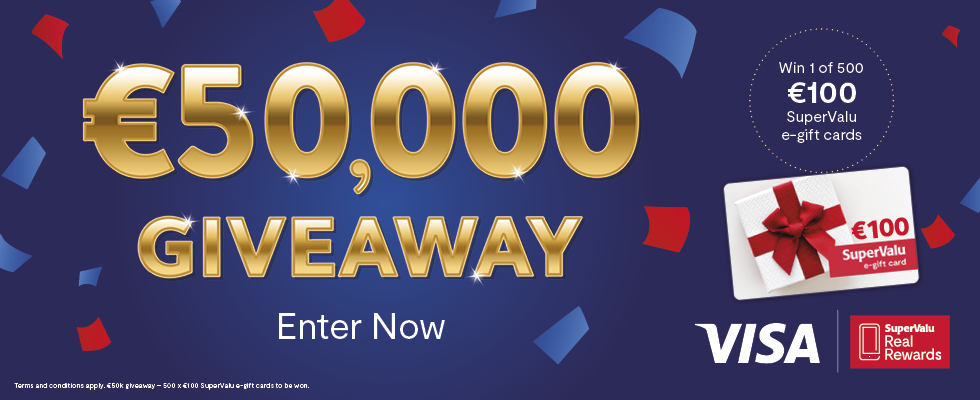 Enter our €50,000 VISA giveaway NOW!
You could be one of 500 lucky customers to win a €100 SuperValu e-gift card.
To qualify for the prize draw, you must have scanned your Real Rewards card or app and paid with Visa 4 times between 1st Nov – 1st Dec 2021.
If you have qualified to enter the draw, you may receive an email or app push notification inviting you to enter. 
To enter the prize draw, you simply need to answer the short question in the link provided and enter your Real Rewards card number which can be found on the homepage of your app. If you don't receive a prompt to enter, check your app to find the link.
The closing date for entries is 15th December.
Best of luck!
The SuperValu Real Rewards Programme is operated and owned by Musgrave.
The Promoter is Musgrave Limited trading as Musgrave Retail Partners Ireland (the "Promoter") having its place of business at Tramore Road, Cork.
The prize draw competition will be run from 00:01 1st November 2021 until 23:59 on 1st December (the "Promotional Period")
The Prize is a €100 SuperValu gift cards to be won by five hundred customers.
To qualify, you must purchase goods which qualify for Real Rewards points from SuperValu, scan your Real Rewards card (or insert Real Rewards card number online) and pay using any Visa debit or credit card four times during the Promotional Period.
You will find details of what goods are excluded from earning Real Rewards points here: [insert link to webpage]
Only Real Rewards members who have opted in to being contacted by the Promoter will be eligible to win the Prize Draw.
Prizes cannot be exchanged for cash or goods.
SuperValu Gift Card terms and conditions apply: [insert link to T&Cs]
The Prizes are non-transferable and non-refundable. Only one Prize per person during the Promotional Period.
Once you have made the required four transactions and paid for each of those transactions with a Visa card, the Promoter will send you an email. Within this email, you will then be required to answer a test of skill/tie breaker question. You can also answer this question on the Real Rewards app. You will not be entered into the draw without answering this question.
A judging panel will review all entries and select 500 winners at the end of the Promotional Period. The selection of the successful entrants will take place by 16th December 2021. The Promoters' selection of the entrants is final, and binding and no further correspondence will be entered into.
The successful Winners will be notified by email according to the contact details supplied by the successful entrant, within 30 days of the closing date of the Prize Draw.
For details of the Winners please send a stamped addressed envelope to SuperValu Competitions, SuperValu, Tramore Road, Cork stating for which competition you would like Winners' details.
The Promotion is open only to SuperValu Real Rewards members who are residents of the Republic of Ireland over the age of 18.
The Promoter reserves the right to terminate, amend, and/or extend the Promotion.
The Promoter accepts no responsibility for any damage, loss, injury (other than our liability for personal injury or death as a result of its negligence) or disappointment of any kind suffered by any entrant in entering the Promotion or in connection with the Prize, including but not limited to as a result of any entrant winning or not winning any prize. The Promoter provides no warranty as to the fitness or condition of the Prize.
These Terms and Conditions and any dispute or claim arising out of or in connection with them or their subject matter (including the Promotion), existence, negotiation, validity, termination or enforceability (including non-contractual disputes or claims) shall be governed by and construed in accordance with Irish law.
The Courts of Ireland shall have exclusive jurisdiction in relation to any dispute or claim arising out of or in connection with the Terms and Conditions or their subject matter, existence, negotiation, validity, termination or enforceability (including non-contractual disputes or claims).
By participating all participants consent to take part in reasonable media activity in the event they win the competition.
The Promoter reserves the right to amend these Terms and Conditions.