sooo Graham's Wine
New Zealand's distinctive topography, with its rain shadow-causing mountains and its temperaturemoderating Southern Ocean setting, gives it a Goldilocks climate, rarely too hot and rarely too cold but just right for growing great grapes. A range of grape varieties finds suitable homes in vineyards stretching for 1,000 miles, from subtropical Auckland at 36° south to the world's most southerly vineyard in stunning Central Otago at 46º south, with its brief but sunny summers and chilly winters. Old school friends Tim Lightbourne and Rob Cameron, co-founders of Invivo wines in 2008, are the guys behind Graham Norton's Marlborough Sauvignon Blanc. How did they get involved, you might wonder? Tim says they loved Graham Norton's show and noticed that he drank white wine, so they rang the producers and just asked if they'd like to serve their wine. After trying it, they said, 'Yes, please.' Once they'd met Graham in London, Tim says it seemed a natural progression to get him more involved. Tim packed some of their handpicked organic grapes into a picnic box and whisked them off to London for Graham to stomp into juice, which was then rushed back down under to be reunited with a fermenting 'mother vat'. 
The wine was a hit on the show and Graham mentioned it in his autobiography too, but there was only enough to sell in New Zealand, where the public lapped it up. Clearly they had to make more in the next vintage for all the Graham Norton Show fans in the UK, Ireland and Australia too. Graham, as you'd expect, is no silent partner, so he took a small stake in the business, with his profits going to the Dogs Trust charity, and he got much more involved. 
Rob and Tim took a selection of wines made from different Marlborough vineyards to London and held a mega blending session with Graham. But the Cork comedian isn't just a brand name for the wine. It really is 'his' wine and Tim was impressed, saying, 'He has a good palate and pointed out lots of subtle differences between the various samples.' The resulting wine is 'going gangbusters' and will be repeated in 2016. There's a red in the pipeline too – watch this space.
New Zealand Top Wine Spots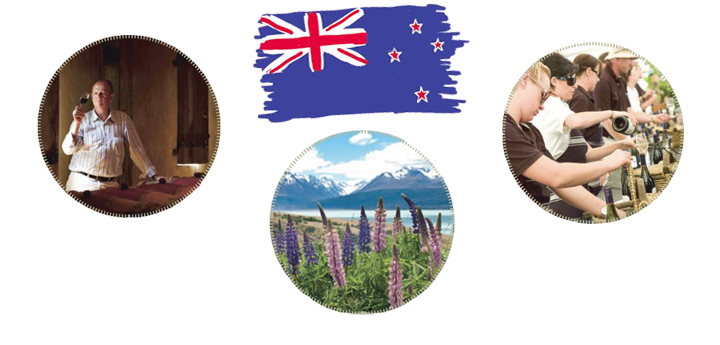 Hawke's Bay
Sunny Hawke's Bay is home to some of the country's best reds, with brilliant Bordeaux-like blends of Merlot and Cabernet Sauvignon vying for top billing with scintillating Syrahs. White wines include cracking Chardonnay, slightly riperstyle Sauvignon Blancs and, increasingly, the trendy Pinot Gris.
Central Otago
Breathtaking scenery with snowcapped mountains and deep lakes are the backdrop to what are arguably New Zealand's finest Pinot Noir vineyards, which account for about 75% of plantings. The next biggest category is aromatic whites, with Pinot Gris, Riesling and Gewürztraminer making distinctive wines. Small quantities are also made of very mineral Chardonnay and Sauvignon Blanc.
Canterbury / Waipara
With the ocean to the east and the Southern Alps to the west creating a moderate climate, it's no surprise that cool temperature-loving Pinot Noir and Riesling are strong here, backed by ever-present Sauvignon Blanc and Pinot Gris.
Marlborough
New Zealand's wine revival started here in the 1970s when its distinctive Sauvignon Blanc took the world by storm. It's the largest wine region by far and Sauvignon Blanc is still the main act, but the undercard includes some very smart Pinot Noir and Chardonnay, increasingly backed up by Pinot Gris/Grigio, underrated Riesling and avantgarde grapes like Grüner Veltliner. This is where you'll find Invivo wines, makers of the famed Graham Norton Sauvignon Blanc.
Wairarapa
A little to the north of the capital, Wellington, Wairarapa is a small but high-quality and influential region. Pinot Noir's reputation here is so strong that some excellent Sauvignon Blanc is a bit overlooked and there's some very promising Pinot Gris and Riesling too.