An Insider's Guide to French White Wine
The Sunday Business Post wine critic Tomás Clancy says there's never been a better time to explore the white wines of France with this easy guide to the classics.


French white wines are regarded as some of the best wines on the planet, but their complex names made them easy targets for New World winemakers, who quickly adopted easy-tounderstand and straightforward grape names instead of the fussy appellation contrôlée names. The wine world soon grew to love Sauvignon Blanc and Chardonnay while shying away from Pouilly-Fumé, a Sauvignon Blanc wine, and Pouilly-Fuissé, a Chardonnay wine, as complicated, off-putting and in many cases, dearer. But France has listened to the winds of change and acknowledged that their image needed an overhaul. Many old, complicated names have been eliminated and replaced with straightforward brand names, plus grape varieties are easily identifiable on the label now too. In addition, the classic white wine regions' prices have dropped and quality has increased.
The True Home of Sauvignon Blanc
Sancerre, Pouilly-Fumé and The Loire
New Zealand and Chilean Sauvignon Blanc are amongst the bestselling white wines in the world, but Sauvignon Blanc's home is in the huge valley of the Loire River in the centre of France, 240km south of Paris. The river has carved out beautiful valleys that are now planted with Sauvignon Blanc, making some of the most delicious wines in the world. The chalky soils all along the river produce the zesty lime and freshly cut grass effects on the palate that draw us to Sauvignon Blanc, with each little village offering slightly different tastes. In AC Pouilly-Fumé, the Sauvignon Blanc grape produces a smoky effect, like the flinty smell of a child's cap gun, coupled with hints of lime and green grass. In the village of AC Sancerre, almost opposite Pouilly-Fumé's vineyards, the limestone produces a flinty, cut grass and green bell pepper note with a lifting, crisp finish. Amongst the rest of the hills around Sancerre and Pouilly-Fumé in less well-known villages with names like Coteaux de Giennois or Touraine, you will find similar zesty, exotic delights begging to be matched with goats' cheese salads, mackerel pâté or scallops.
Chablis
The Home of Lean Chardonnay
The closest part of Burgundy to Paris, Chablis, is probably the most famous name in white wine. When pioneers founded Californian wineries and planted white Chardonnay grapes they called their wines Californian Chablis, but by law today they must simply name it after the grape. Unfortunately, as Chardonnay became popular, people forgot that Chablis was made from Chardonnay, some of the best in the world. These grapes are grown on ancient Jurassic chalky soils that give a stony, mineral like mouthfeel over a rush of lemon notes and a luscious, mouth-watering finish. In AC Chablis you can find unoaked, pure Chardonnay at its most complex and alluring. Try a chilled glass with prawns, crab salad or hard cheese and you may never venture to the New World again.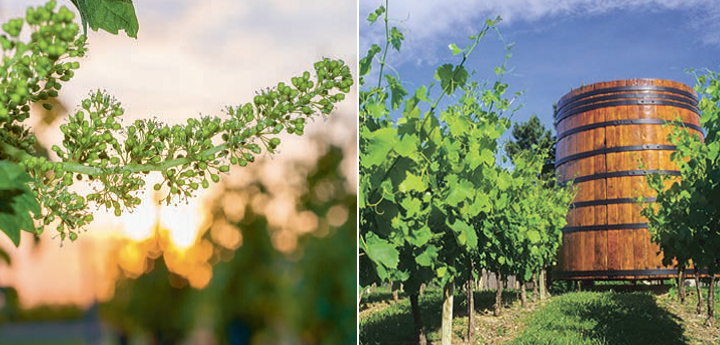 Mâcon
The Birthplace of Chardonnay
When you have a village in your region called Chardonnay, packed with vineyards full of the illustrious grape nearby, you know you are close to the source of not just the grape, but its most classic examples. Situated about 75km south of Beaune and the centre of Burgundy is the Mâcon region. Here you will find some of the best-selling names in French white wine, such as AC Mâcon-Lugny, AC Mâcon and the legendary AC Pouilly-Fuissé. All three of these wine villages make wine from the Chardonnay grape, which is probably why they began to call their wines Chardonnay. Mâcon-Lugny's Chardonnay wine is lightly nutty with a light green lime streak and a crisp finish, while AC Pouilly-Fuissé is a little more complex. Its nuttiness can spill over into sweetness, with hints of buttered toast and a flicker of caramel in some of the best examples.
The Fragrant Languedoc
In the most southern region of France, the Languedoc, right on the border with Spain, they are making some of the most fascinating white wines in the country. These white wines are made from highly aromatic varieties that draw their exotic power from the wild and perfumed heat of the Mediterranean and its plants and heathers. In the Languedoc, the Viognier blooms into Turkish delight opulence, while the local white grapes Roussanne and Grenache Blanc offer lip-smacking grapefruit notes with a touch of sweetness like toasted brown sugar on top of the citrus. These white wines are perfect for various tapas, slices of Ibérico ham or a salad strewn with charred peppers.