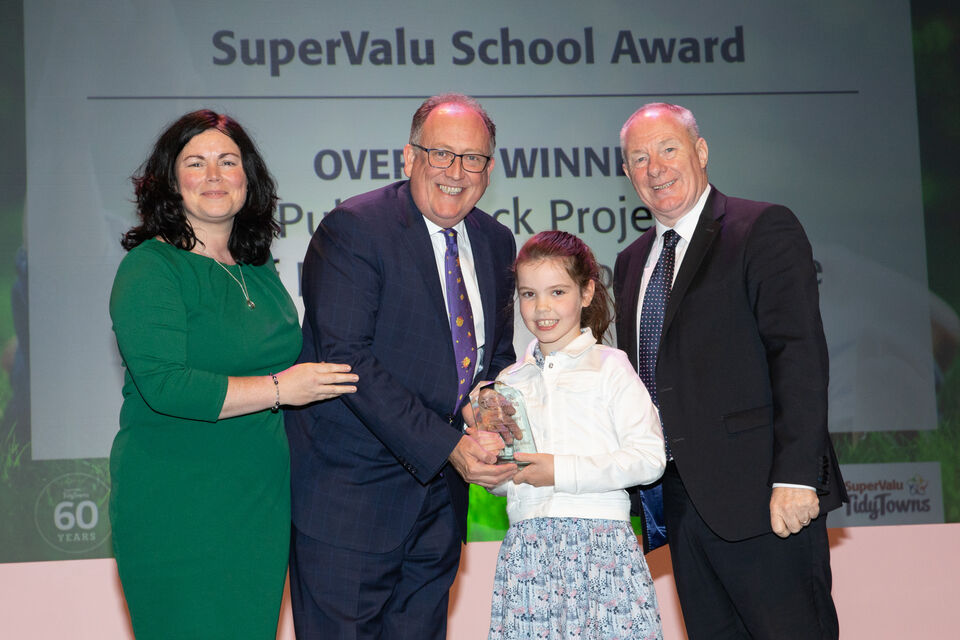 SCARIFF WINS SUPERVALU SCHOOL AWARD AS TIDYTOWNS CELEBRATES 60TH ANNIVERSARY 
Tuesday, 25th September 2018 – Scariff National School, Co Clare has won the inaugural national SuperValu School Award at the TidyTowns Awards Finals, which celebrates its 60th anniversary this year.
The pupils of Scariff National School were named winners recognised for their role in making the community of Scariff, Co Clare a better place for people of all age groups to live, work, play and visit.
Representatives from the school received the much-coveted award from Mr Martin Kelleher, Managing Director, SuperValu, at the capacity awards event at The Helix, Dublin for their clever and innovative Public Clock Project. The announcement was greeted by great celebrations at the Helix.
The inaugural SuperValu School Award was established to celebrate the contribution of young people to SuperValu TidyTowns activities around the country. It was founded to recognise that working together can deliver benefits to people of all ages in local communities.
In choosing Scariff National School, the SuperValu TidyTowns judges felt that the school's devotion to the Public Clock Project, and their embodiment of the SuperValu TidyTowns values earned them the title as the first ever winners of the SuperValu School Award.
The awards also honoured regional TidyTowns winners, which included Dunboyne Senior Primary School, Co. Meath, Milltown National Schools, Co. Galway, and Portlaw National School, Co. Waterford.
Commenting on the award, Mr. Kelleher said, "As we celebrate the 60th year of the TidyTowns competition, and mark 27 years as title sponsor of the SuperValu TidyTowns competition, we remain incredibly proud of our long-standing involvement in this important initiative. Year after year we see volunteers up and down the country come together to enhance their local communities and their tremendous passion and dedication never fails to impress."
"The SuperValu School Award is indicative of the growing momentum behind the SuperValu TidyTowns competition as more and more young people get involved in the initiative every year. These youth volunteers really embrace community spirit as they work tirelessly to enhance their local area. We commend all our regional winners for their continued dedication. Congratulations to Scariff National School, overall winner for 2018 on their stellar achievement.
There was a capacity crowd at the Helix with TidyTowns committees from across the country present for the 60th anniversary awards ceremony. Interest in SuperValu TidyTowns reached record levels this year, with 883 committees participating.
The SuperValu TidyTowns competition is organised by the Department of Rural and Community Development and has been sponsored by SuperValu for 27 years, making it one of Ireland's longest-running sponsorships.