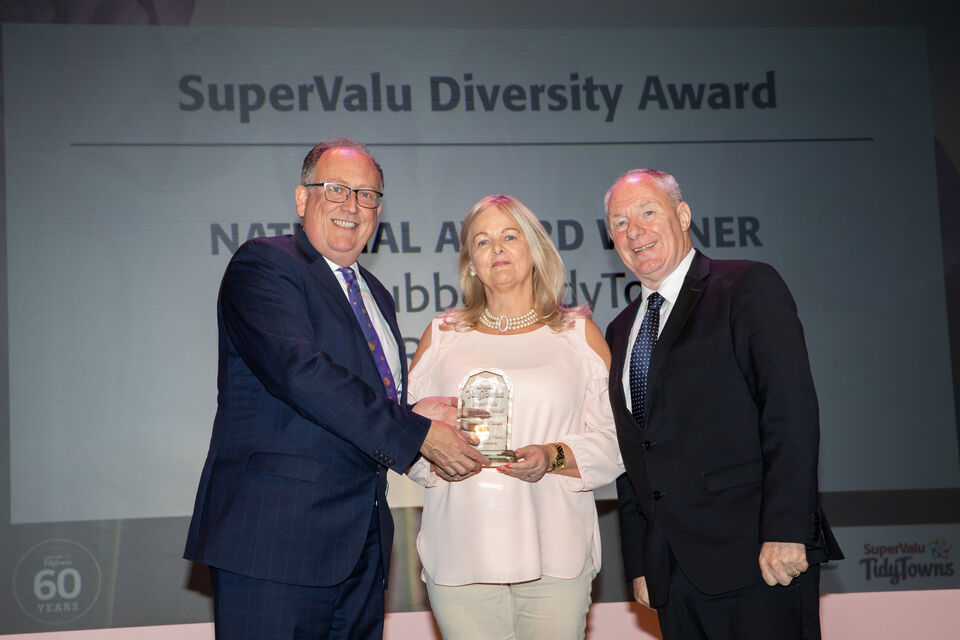 BALLINTUBBER TIDYTOWNS WINS SUPERVALU DIVERSITY AWARD AS TIDYTOWNS CELEBRATES 60TH ANNIVERSARY
Monday 24th September 2018 – The SuperValu TidyTowns committee in Ballintubber, Co Roscommon is celebrating after winning the SuperValu Diversity Award as the SuperValu TidyTowns competition celebrates its 60th anniversary.
The win in the SuperValu Diversity category for Ballintubber TidyTowns was announced today (Monday, September 24th) at the SuperValu TidyTowns Awards National Finals at the Helix, DCU.
Ballintubber TidyTowns was recognised for its commitment to getting all of the local community, across ages and cultures, involved in its projects to make Ballintubber a great place to work and live in.
Commenting on Ballintubber TidyTowns' victory, Martin Kelleher, Managing Director, SuperValu said, "We are delighted to honour Ballintubber TidyTowns' today for their commitment to diversity within their community.
"As we celebrate the 60th anniversary of SuperValu TidyTowns, the SuperValu Diversity Award embodies the values that SuperValu retailers and the competition share – working together across age groups and embracing all cultures to build thriving, sustainable communities.
"This is a great achievement for Ballintubber TidyTowns and we would like to extend our congratulations to the committee on a well-deserved win."
There was a capacity crowd at the Helix with SuperValu TidyTowns committees from across the country present for the 60th anniversary awards ceremony. Interest in SuperValu TidyTowns reached record levels this year, with 883 committees participating.
The SuperValu TidyTowns competition is organised by the Department of Rural and Community Development. SuperValu has been title sponsor for 27 years, making it one of Ireland's longest-running sponsorships.