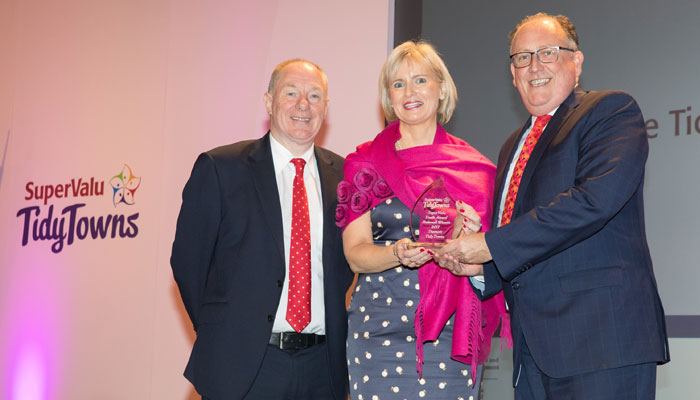 TRAMORE TIDYTOWNS COMMITTEE WINS SUPERVALU YOUTH AWARD
Monday 25th September 2017 – Tramore TidyTowns today received the national SuperValu Youth Award today at the TidyTowns Awards in the Helix, Dublin. The TidyTowns committee was recognised for its role in making the community of Tramore a better place for people of all age groups to live, work, play and visit.
Tramore's TidyTowns project was the comprehensive and innovative #CostofyourCuppa.
 Organised and managed by sixth-class pupils of the Glor na Mara Primary School in Tramore, the project focused on the highly topical waste management issue of disposable cups.This project was distinguished for its potential to have a positive impact on Tramore and also for how easily it   could be replicated across the country.
Some of the project's interesting elements included social media campaigns to raise awareness about the issue, partnerships with local cafés and councils as well as a quirky "re-use" of disposable cups for planting and art projects.
The SuperValu Youth Award, now in its third year, celebrates the contribution of young people to TidyTowns activities around the country.
It was established to recognise how working together can deliver benefits to people of all ages in local communities.
In choosing Tramore, the judges felt that the #CostofyourCuppa project addressed the challenges of reducing and re-using disposable cups.
The awards also honoured regional TidyTowns winners, with Tramore winning the overall national title.
Martin Kelleher, Managing Director, SuperValu, presented the National Youth Award to Tramore TidyTowns, with the announcement greeted by great celebrations at the Helix.
Commenting on the award Mr Kelleher said, "As we mark 26 years as title sponsor of the SuperValu TidyTowns competition, we remain incredibly proud of our long-standing involvement in this important initiative. Year after year we see volunteers up and down the country come together to enhance their local communities and their tremendous passion and dedication never fails to impress."
 "The SuperValu Youth Award is indicative of the growing momentum behind the SuperValu TidyTowns competition as more and more young people get involved in the initiative every year. These youth volunteers really embrace community spirit as they work tirelessly to enhance their local area. We commend all our regional winners for their continued dedication. Congratulations to Tramore TidyTowns, overall winner for 2017 on their stellar achievement.
The Helix was full to capacity with TidyTowns groups who had travelled from across the country to attend the awards ceremony. Interest in the SuperValu TidyTowns competition continues to grow every year and this year saw 870 towns and villages participating.
The SuperValu TidyTowns competition is organised by the Department of Rural and Community Development. SuperValu has been title sponsor for 26 years, making it one of Ireland's longest-running sponsorships.