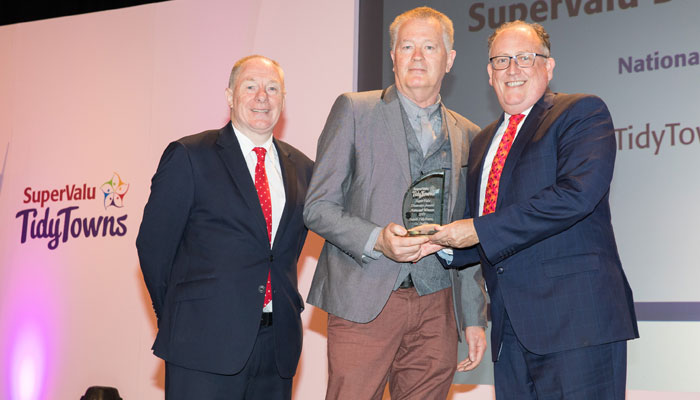 SWORDS TIDYTOWNS WINS SUPERVALU DIVERSITY AWARD
Monday 25th September 2017 –  Swords TidyTowns committee is celebrating, having received the national SuperValu Diversity Award at the SuperValu Tidy Towns Awards, which took place at the Helix in Dublin today. The TidyTowns committee was recognised for its efforts to include all of the Swords community, on an inter-generational and inter-cultural basis, in the work that they do to enhance the town.
Commenting on the award Martin Kelleher, Managing Director SuperValu said, "As we mark 26 years as title sponsor of the SuperValu TidyTowns competition, we remain incredibly proud of our long-standing involvement in this important initiative. Year after year we see volunteers up and down the country come together to enhance their local communities and their tremendous passion and dedication never fails to impress."
"The SuperValu Diversity Award, now in its third year, demonstrates the competition's clear capacity to grow, attracting all age groups and embracing all cultures with our communities. The tireless dedication of volunteers young and old is truly inspiring. This is a great achievement for Swords TidyTowns and we would like to extend our congratulations to the committee on a well-deserved win"
The Helix was  full to capacity with TidyTowns groups, who had travelled from all over the country  to attend the awards ceremony. Interest in the SuperValu TidyTowns competition continues to grow every year.
The SuperValu TidyTowns competition is organised by the Department of Rural and Community Development. SuperValu has been title sponsor for 26 years, making it one of Ireland's longest-running sponsorships.