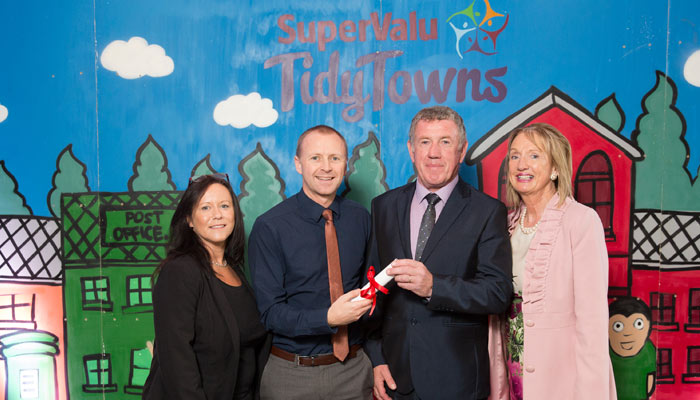 KILSHEELAN TIDYTOWNS COMMITTEE MEMBER NAMED SUPERVALU COMMUNITY HERO  
26th September 2016 – Tommy Lonergan of Kilsheelan TidyTowns Committee was today highly commended with a SuperValu Community Hero Award. Tommy, who was nominated by local retailers Stuart and Debbie Martin of SuperValu Clonmel, was recognised for his unwavering commitment to enhancing their local community.
The SuperValu Community Hero awards celebrate the efforts of ten SuperValu Community Heroes from across Ireland who act as exemplary members of their community. Each hero was acknowledged for their outstanding contribution to their local area through their involvement in SuperValu TidyTowns. On hand to present the prize was Martin Kelleher, Managing Director of SuperValu.
Commenting on the awards Mr. Kelleher said, "As we celebrate 25 years as title sponsor of the SuperValu TidyTowns competition, we are incredibly proud of our long-standing involvement in this important initiative. TidyTowns recognises the efforts of communities up and down the country and year after year we see the tremendous power of local as volunteers rally together to enhance their towns and villages. The SuperValu Community Hero Awards are intended to recognise those who go above and beyond in their endeavours and I would like to congratulate all our winners on this tremendous achievement."
The Helix in Dublin was packed with TidyTowns groups from all over the country present for the awards ceremony. Interest in the SuperValu TidyTowns competition continues to grow every year and this year saw 859 towns and villages entering the competition.
The SuperValu TidyTowns competition is organised by the Department of Arts, Heritage, Regional, Rural and Gaeltacht Affairs and has been sponsored by SuperValu for 25 years, making it one of Ireland's longest-running sponsorships.