We've landed the best quality fish.
Meet Ken Ecock. His family business supplies our SuperValu Range with most of our fresh fish as well as smoked salmon, prawns and fish fingers that taste just as good as the best selling brands... but at a third less. Dunns Seafare, established in 1822, is Ireland's oldest fish company. They source only the freshest fish for our SuperValu Fish Range from all major fish ports throughout Ireland: Castletownbere Co. Cork, Foyle Co. Donegal and Dunmore East Co. Waterford as well as other responsibly sourced fisheries.
Just like SuperValu, sustainability is very important to Ken and his team. Because it is through sustainable fishing practices, that respect the sea and habitats of the fish, that employment in the Irish fishing sector will continue to bring prosperity for years to come. This ethos has seen Dunns become thefirst fish producer to carry the 'Responsible Irish Fishing' logo.
Before the sun is even up, Ken is out talking to fishermen, finding the best fish on offer every morning. Fresh fish is hand filleted as soon as the catch is brought in at Howth and then delivered to our fish counter. Ken's family are extremely proud to have helped to create over 100 full time jobs as well as helping to support Irish fishermen in many coastal towns.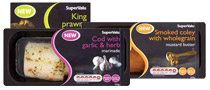 Our prepared fresh fish is created using unique recipes especially developed for the SuperValu Range. Ken's family are proud to be supporting the work of Irish fishermen. All of which means that Ken is able to supply us with the best quality fish at the best possible price.