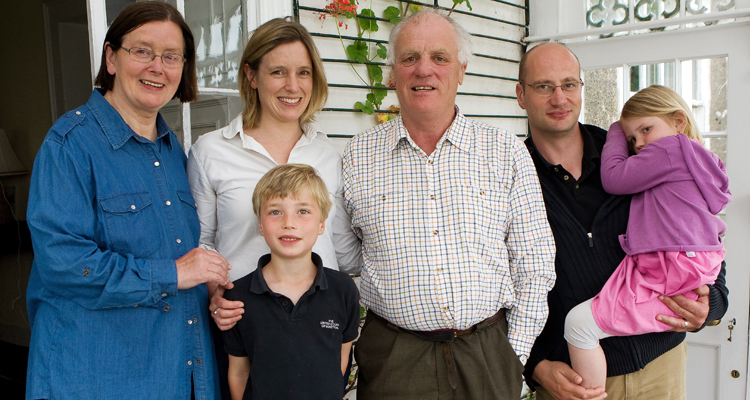 Cashel Farmhouse Cheesemakers is a 100% family owned Irish business based on Beechmount Farm in rural Co. Tipperary. Established in 1984 by husband & wife Jane and Louis Grubb, today the responsibility of producing Ireland's internationally best known Irish Farmhouse Cheese, Cashel Blue, has passed into the hands of the second generation.
Making technique remains traditional, all curds are cut and stirred by hand, with much of the milk coming from the families own herd of pedigree Friesian cows, to this day all Cashel Blue continues to be made in the Cashel Farmhouse Cheesemakers dairy, based 10 miles from the town of Cashel.
When starting out over 30 years ago, only a few people in Ireland ate blue cheese and today many people enjoy this style of farmhouse cheese, either on its own with a glass of wine or craft beer or in a wide arrange of dishes. A particular Christmas favourite is Cashel Blue and black pudding Bruschetta style. Simply take a slice of French bread, slice thinly, toast, top with caramelised onion, black pudding and a slice of Cashel Blue.
In 2016 Cashel Farmhouse Cheesemakers have received the following international awards:
2015-2016 Super Gold Crozier Blue World Cheese Awards (Crozier Blue is made to the same recipe as Cashel Blue but from sheep's milk, typically it is aged for twice as long as Cashel Blue)
2016 Coup de Coeur, French Agricultural Show Crozier Blue recognising the uniqueness of our sheep's milk cheese.
2016-Gold, Cashel Blue World Cheese Awards
2016-Challenge H Cup, Nantwich International Cheese Awards for Cashel Blue Crème. Cashel Blue Crème is an easy to eat, 100% natural gourmet cheese spread.
For more information on Cashel Blue Cheese click here.