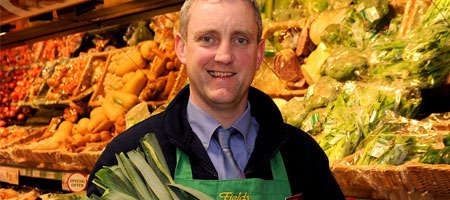 Pat Collins, SuperValu Skibereen.
Pat Collins, SuperValu's Fruit and Veg Expert, tells us what is in season and about the growing demand for organic produce.
The seasons may come and go bringing their signature fruit and vegetables, but there is one thing that never changes and that's the friendly, helpful advice you get from Skibereen's Fruit and Veg Expert Pat Collins.
Pat's knowledge is not something that popped up overnight like a mushroom, it's the fruition of over 18 years experience working in the fruit and veg section for SuperValu.
He loves the ever-changing nature of his job. "It is always changing; you need to be in the know and aware of how different fruit and vegetables grow, what is in and out of season and what goes best with what".
While Pat's mother and brother worked in the SuperValu bakery section, it's been in the fruit and veg section that Pat has witnessed dramatic changes over the years. Back when he started out, the only real exotic things around were some of the colourful characters that dropped in for groceries and a chat. "When I first started working here there was no such thing as mangoes or pomegranates" Pat says, adding that the word 'tropical' was only ever used to describe the odd great summer's day. Just five years ago, people asked for blueberries once in a blue moon but now about 20 cases a week are sold.
He has also noticed a big increase in the demand for fresh herbs and spices. The benefits of using herbs and spices in food have also become common knowledge. "These are natural and good for us" Pat adds.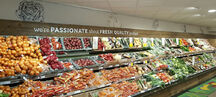 It's not just the range of fruit and veg on offer that has improved but also the quality. Pat tells us that it keeps getting better and better and how SuperValu strive to sell only the best quality items. Their slogan is 'only sell what you would buy yourself'.
Pat has seen his customers become more health conscious with a big growth in their appetite for organic produce. People are a lot more aware of what they are eating and how vital fruit and veg are for their diets. With no chemicals used, organic products not only taste better, but are also better for us. The perception that 'organic' means 'expensive' is no longer a valid one, Pat argues. "Organic products have become very competitive. They are not as expensive as they used to be. You can purchase a bag of organic carrots or celery for less then €2" he says.
"We have great multi bag deals on fruit and veg. The best advice I could give is to take advantage of these deals. You can get a few days worth for €10".
With so many ways to use fruit and veg, Pat finds waste sinful. "Waste is the biggest sin. So use left overs to make soups or fruit desserts".
Discover fruit and veg recipes here to make the most of in-season produce.