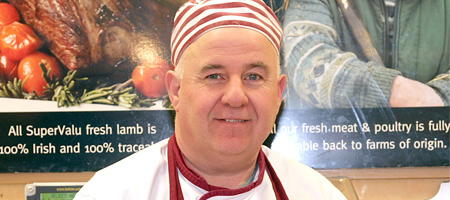 Sean Keane, Davis' SuperValu Longford
Starting out as a butcher at the tender age of 16 and with 10 years at SuperValu under his apron, it's fair to say that Sean Keane is a cut above the rest. 
So what drew Sean to working as a butcher? "I always had an interest in meat and always wanted to know about the different cuts. That's why I started to work as a butcher at 16" he says.
Sean sees consumers' knowledge about meat being a little less raw today than when he first started out. Perhaps all the celebrity chef TV shows are responsible, but these days shoppers want to make sure they get the most from their meat. "People are always asking now 'How do I cook this?' Years ago they were not so concerned. The modern chef is always asking for instructions on how to cook the meats, for how long, at what temperature etc" he says.
"We're a local community store and the way to ensure repeat customers is to maintain the highest of standards"
A greater interest in food is not the only change that Sean has noticed over the years. Consumers are now far more health conscious. People are a lot more concerned with where the meat has been before it arrived at SuperValu. A few years ago, people came in and bought their roasts and their steaks and there were no real questions asked. The provenance and quality of meat has become very important to customers.
SuperValu, of course, maintains the strictest of standards, ensuring everyone in the chain of supply treats the meat with the same attention to hygiene and dedication to quality that we do. "We're a local community store and the way to ensure repeat customers is to maintain the highest of standards".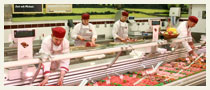 Sean adds that SuperValu's new "value added meat products" have proved to be very popular. They now have a wide range of value added products such as marinated meats and chicken. That way you are guaranteed great tasting results within minutes when you get home.
"Buy some steak and add in some nice spuds and veg. It's a great way to keep the onset of winter at bay"
Apart from being health conscious, today's shopper is also budget conscious and on the look out for a bargain. So what tips does Sean have for shopping in a recession? He advises to always look out for the deals on offer and tells us there are so many great deals offering really good value. Choosing the right cut is another way to cut back on expense. "There are always cheaper cuts available. During the boom people were always buying Fillet steak and Striploin steaks but people are going back to buying cheaper cuts because they're often just as good as the more expensive one's. Rib steak is coming back big time now".
Sean also says that in these tough times, it's important to cut out the fat and make sure everything the consumers takes home is good and tasty with no waste involved. Now that the days are getting shorter and it's getting colder, Sean recommends  buying some lovely stewing steak, joints of beef or lamb and get making some hearty stews and roasts. Add in some nice spuds and veg because "it's a great way to keep the onset of winter at bay".
5 Quick Tips For Cooking the Perfect Steak
First decide how you like your steak done. A few people like "blue" - almost raw - but most tend to prefer their steaks from medium rare to well-done. If you decide in advance, you're more likely to pay attention to it and remove the meat in time.
Try not to turn the meat too many times. Ideally, you should have one flip, two at most.
Resist the temptation to touch the meat too much. Use a set of tongs to turn the steak. Poking it with a fork puts holes in it and allows the juice to seep out and then you're just asking for dry beef.
Don't mash on the steak with your tongs. That's just as bad as poking it with a fork, and presses out all the juices. To taste whether your steak is done, just gently press with the flat part of your tongs. The harder the meat is, the drier it will be.
Don't just gobble up the steak the moment you stop cooking it. Put it on a plate and let it rest for a few minutes. You'll notice that a lovely juice oozes out as it settles.
Guideline for griddle pan high heat and cook as follows:
Rare-2 minutes on either side
Medium- 4 minutes on either side
Well Done- 5/6 minutes on either side
Call into your local SuperValu to talk to your local Butcher Expert.