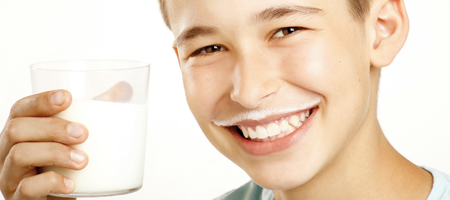 Calcium is one of the many minerals that our bodies need for good health. Calcium is well known for its importance in keeping our bones healthy. However, calcium is also needed to help our blood to clot, to keep muscles working properly and to help release energy from food.
"Where can I find Calcium?
Dairy foods like milk, cheese and yoghurt are all good sources of calcium. You can also find calcium in almonds and sesame seeds as well as fortified soy milk. Butter and cream have almost no calcium. The Department of Health recommends that we have 3 servings of milk, hard cheese or yoghurt everyday to get enough calcium.
Did you know?
Soft cheeses have less calcium than hard cheese. Cheddar cheese has seven times more calcium than feta cheese.
Calcium – Benefits at a glance:
Helps to release energy from food
Needed for strong bones
Essential for healthy teeth
Helps digestive enzymes to work
Needed to help blood to clot
Important for healthy muscle function
How much Calcium do I need everyday?
The RDA or Recommended Daily Amount for Calcium is 800mg per day.
| | |
| --- | --- |
| Calcium in Food | Need per 800mg day |
|   |   |
| 200mls Skimmed milk | 44mg |
| 200mls Full fat milk | 240mg |
| 200mls Goats Milk | 200mg |
| 200mls Calcium-enriched Soya milk | 188mg |
| 50g Cheddar Cheese | 369mg |
| 50g Feta Cheese | 48mg |
| 1 Pot Yoghurt | 250mg |
| 100g Almonds | 40mg |
| 100g Brazil Nuts | 170mg |
| 100g Hazelnuts | 40mg |
| 1 tablespoon Sesame Seeds | 160mg |
Did you know?
Full fat, low fat and skimmed milk all have almost the same amount of calcium so you are not missing out if you choose low fat or skimmed milk instead of full fat.
Promax Strawberry Milk 250ml
Protein Milk designed for muscle rebuilding and recovery
---
Alpro Almond
Alpro Almond Chocolate
---
SuperValu Hazelnuts
SuperValu Hazelnuts 150g
---
SuperValu Brazil Nuts
SuperValu Brazil Nuts 150g
---
Blue Diamond Almonds Oven Roasted Almonds with Sea Salt
Blue Diamond Almonds Oven Roasted Almonds with Sea Salt
---
Blue Diamond Almonds Wasabi Soy Sauce Flavour
Blue Diamond Almonds Wasabi Soy Sauce Flavour