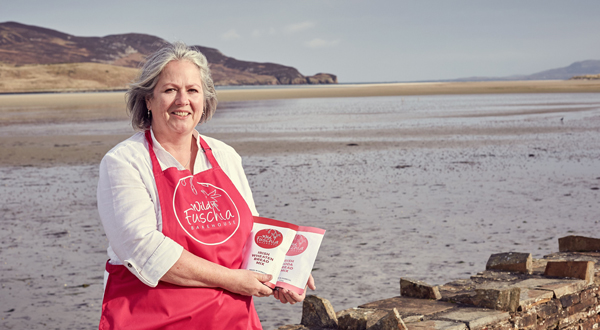 Wild Fuschia Bakehouse is situated in a sheltered courtyard in the picturesque seaside village of Dunfanaghy in Co Donegal. In 2017 we opened the bakery in the same courtyard where the original Dunfanaghy Bakehouse did business many years ago. All the baking is done in three ovens right in front of the customers and this sparks a lot of conversations about the wonderful smell of freshly baked bread and how the lost art of bread making is almost gone from homes across the country. With that in mind, Sian at the Wild Fuschia Bakehouse developed dry mixes, replicating the simple yet delicious recipes that she uses in the Bakehouse.
Research indicates that some people are put off by the expense of buying all the ingredients, the equipment needed and the mess that may be made. This too has been addressed by the Wild Fuschia Bakehouse bread mixes. Our recipes are easy to make, use very little equipment and taste fantastic. Home bakers can also be a bit more adventurous and add texture and flavour by adding other ingredients to the mixes. Firm favourites at the Bakehouse include dried fruit, chorizo, blue cheese, fennel and sun-dried tomatoes.
The Food Academy has been an amazing experience with first class information and support. It has made the journey into producing for retail far easier than it would otherwise have been.
Wild Fuschia Bakehouse currently employs a number of staff and the plan is to create more opportunities for employment as the bread mixes develop. Sian can't wait to get out and meet the public and share her enthusiasm for home baking with tastings planned for all the SuperValu stores in Donegal.
Follow Wild Fuschia Bakehouse on Facebook.