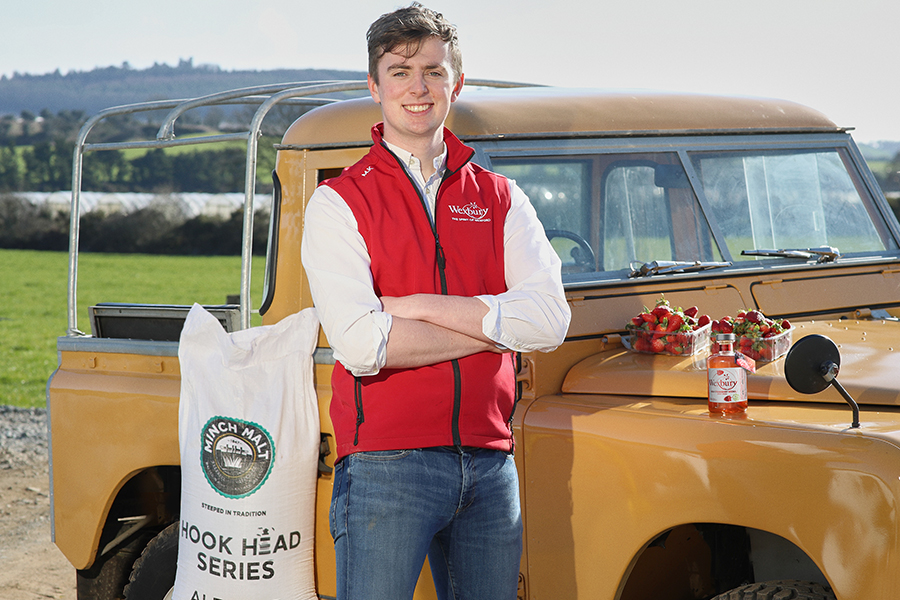 Wexbury Spirits was founded by Mark Kavanagh in 2020. Mark started his Entrepreneurial journey as a boy by setting up his own roadside strawberry stall close to his family farm in Enniscorthy, Co.Wexford.
Mark began to experiment with using the freshly picked, traditionally grown strawberries to develop an innovative spirits drink that would enable people to experience the unique taste of Wexford Strawberries all year round!
Distilled with malted barley harvested from the Hook Head Peninsula, Wexbury Spirits is made using only the very best of Wexford produce. Wexbury is a versatile vodka spirit drink that can be enjoyed neat or with a dash of soda water to make an instant Wexford fruit flavoured cocktail. Wexbury supports local farmers by using Wexford grown grain and fruit in our products. This feeds back into supporting the local economy by sustaining jobs in the Wexford farming community
SuperValu nurtured our business through their amazing Food Academy. They assisted us directly and put us in touch with some of the most capable and experienced industry professionals in Ireland. This greatly assisted the development of Wexbury spirits.
Every bottle of Wexbury becomes an ambassador for Wexford tourism, fresh Wexford farm produce and the people and county of Wexford. Wexbury embodies 'The Spirit of Wexford'.