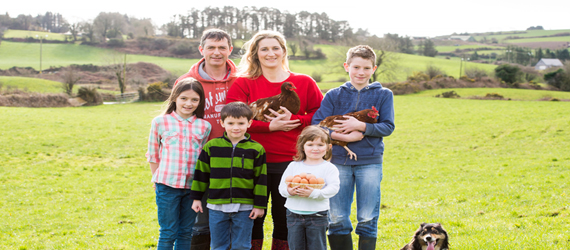 Mine is a story of City Chic to Country Chick really - I am originally from London, born to Irish parents. In 1999, I moved to West Cork where I met and married a West Cork farmer and we now  have 4 great kids.
In 2009, I bought 4 hens. I wanted the kids to know where food came from and to get them involved in the farm. The eggs were just delicious and we got a few more hens, and a few more, and before I knew it we had about 200 hens!
It was then that I approached my local SuperValu, Scally's in Clonakilty, and asked if they would sell our eggs to customers. To my great surprise, they said yes and we had our first customer. This gave me the confidence to apply for the Food Academy programme. This is a great programme which taught me lots about the retail and food business. I was successful in the Food Academy programme and given the opportunity to supply my eggs to SuperValu stores in the Cork area. We expanded and now have over 3000 hens and the sales and support have been great.  We have won various business awards and have been awarded a Gold and a Silver award at the Blas na hEireaan food awards in 2018 and 2019.
The Food Academy programme has been essential in the opportunity, development and growth of our business. Without it, we simply wouldn't be where we are today. We bring our fresh free-range eggs to 21 SuperValu stores in Cork and other independent stores and hotels.
Working with SuperValu, we hope to expand and bring our great free range eggs to more people around the country.