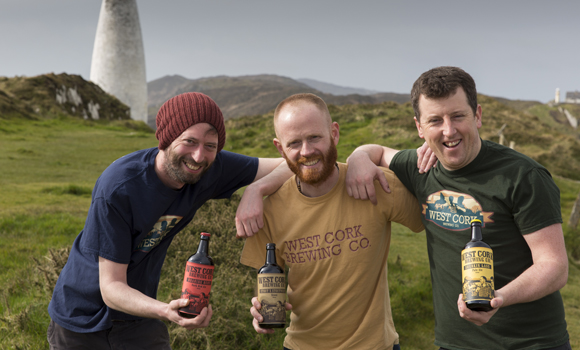 The West Cork Brewing Co is the brainchild of three local childhood friends from Baltimore and Skibbereen - Dominic Casey, Henry Thornhill and Kevin Waugh.
Having witnesses the recent explosion of microbrewers around Ireland they felt there was an opening in the market - especially as West Cork has long been associated with the best in quality artisan food both locally and nationally. The question was obvious to them - why not add a quality artisan craft beer to stand alongside its food cousins!
WCBC (West Cork Brewing Co) launched in December 2014 after 2 years R&D to bring our first two products to market - Roaring Ruby (red ale) and Sherkin Lass (pale ale)
In December 2015 we launched a new beer (a stout) called Stout X Stout West.
Our brewery is attached to Casey's Hotel, which is run by Dominic. We use our own spring water which gives our beer a great advantage in the taste profile compared to most other beers which are brewed with mains water.
Fields SuperValu in Skibbereen was one of the first stores to reach out to us to stock our product once we got the beer into bottles towards the end of 2016. They put our beer at eye height in store which is where you need your product. We try to source as much as we can in Cork. Our biggest ingredient malt comes from the Malting Company of Ireland.
We also sponsor local events such as a recent event at the West Cork Arts Centre.