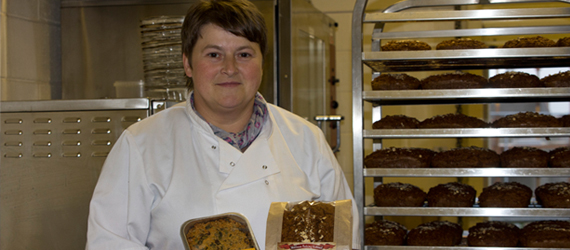 Wellness Baking Listowel is a Gluten Free artisan bakery based in Listowel, Co. Kerry and was established in April 2011 by Ildiko Bajzat, this was as a result of having baked some Gluten Free Cookies for a friend, they turned out to be a big hit and Ildiko was asked to bake more.
Ildiko saw a gap in the market and looked into the products available and could not find any really nice gluten free treats in the supermarkets, her friends had really loved the gluten free cookies which she made, so she decided to give it a go and from that Wellness Baking Listowel was started.
Currently Wellness Baking employs nine staff between full time and part-time staff and Ildiko is delighted to be able to give employment to local people in the Listowel and surrounding areas. Wellness Baking Listowel is a family business with three generations of the family working in the business - Ildiko's aunt, her first cousin and her two daughters are all involved either on a part-time or full-time basis.
Wellness Baking Listowel bake a range of Gluten Free products, the best-selling item is Ildiko's Gluten Free Soda Bread which is extremely popular with her customers, it is created using 5 ingredients only, it is handmade the same as you would make it at home with only fresh ingredients, our specially sourced gluten free oats, buttermilk, whole eggs.

Wellness Baking Listowel's Gluten Free Brown Soda Bread is preservative and additive free, egg free, with no added sugar, soya free and yeast free so appeals to many people trying to avoid these items in their diet. We also find that many of our customers buy our product as they just like it, and they do not have any specific dietary issues but love the taste of the products and buy from our gluten free range regardless. The remainder of our products are also dairy free, so this appeals to customers that are lactose intolerant or trying to avoid dairy in their diet for health reasons but again many people buy the goods just because they like the taste.
Currently Wellness Baking Listowel's products are stocked in SuperValu stores in Kerry, Limerick and Cork. A full list of stockists can be found on www.wellness-baking.com
The Food Academy has had a major impact on the business, since Wellness Baking Listowel joined the food academy sales have increasing on a monthly basis and business has almost tripled, this would not have been possible without the assistance of the Food Academy.