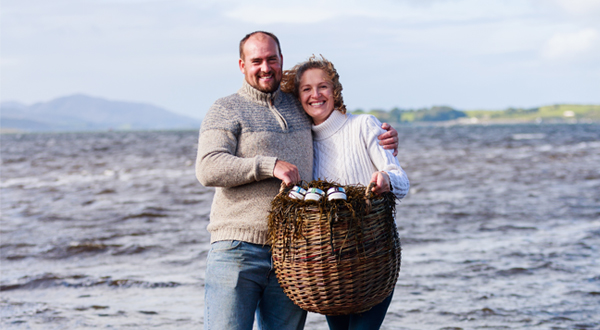 WASi Wild Atlantic Seaweed
WASi brings together two seaweed enthusiasts - one vegetarian and one seafarer. Claire, determined to escape the office environment once and for all felt it was high time to set up her own business. Encouraged by her partner Eli, their passion for seaweed led them to establish WASi.
Side by side they make all WASi products, hand harvesting the seaweed sustainably, mixing, bottling and blending. To ensure the vitality of seaweed for generations to come, we carefully cut only a small portion of the plant. Before we return to this plant again, it will have completely regenerated itself- that is the magic of seaweed. Creating delicious, user-friendly products, they are determined to see seaweed back on kitchen tables everywhere for all to enjoy.
Claire was raised on a small family farm just outside Bantry town in Southwest Ireland. Growing up, seaweed played a fundamental role in the health of the land and her family- for many generations in Ireland, gathering and spreading seaweed on the land was key for encouraging fertility and a successful harvest.
Claire often tells of her Great-grandmother that would turn to seaweed to cure any and every ailment, she lived to the ripe old age of 103 years, with her daughter (Claire's grandmother) living to reach 100 years. They say the old ways are the best ways and with evidence like this there's little doubt but that there's a lot of truth to it.
In recent times, remembrance of this ancient gift from our seas has been slipping away - we strive to see seaweed reintegrated into our food culture.
Far more nutrient dense than any land vegetable, seaweed is an excellent source of micronutrients including folate, calcium, magnesium, zinc, iron, and selenium. More importantly, it's a great source of iodine. WASi's Pestos bring all these benefits to your diet in a convenient, tasty and super versatile form. Loved by adults and children alike, our pestos are delicious spread on a slice of toast or added to any sauce for a wonderful umami flavour.