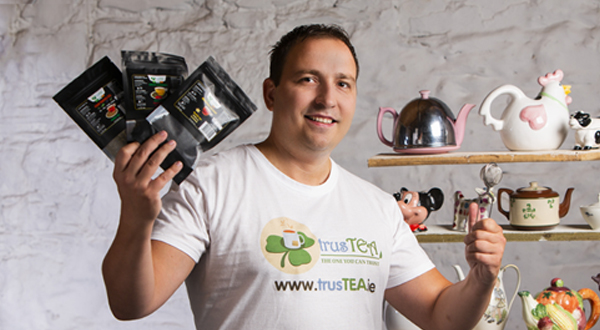 TrusTEA is an Irish business founded in 2018 by two enthusiastic tea lovers, who have a seven year old daughter, who started developing and mixing new specialty tea blends. We are tea lovers and while studying and travelling we were drinking teas from all over the World, so decided to bring new tea blends to the Irish market, to make our own tea brand...We named our brand TrusTEA.
And we are not just presenting any blends, but loose specialty tea blends, to offer people something they don't have a chance to buy every day.

So far we have managed to develop a special herbal tea blend, which is totally unique, inspired by the legendary 'Four thieves' story, the blend is a mix of 4 herbs - sage, thyme, lavender and rosemary!! So we named it Four Thieves Tea.
Two other blends are Morning Delight (which is black tea vanilla flavour) and Green Harmony (green tea strawberry flavour).Our goal is to have 10+ specialty tea blends for each sector of life, next one we are working on is kids blend...
We are passionate about tea and strive to continually delight our customers, so that each cup we produce will be your best.
SuperValu helped us to get a different approach to potential consumers, to have a chance to present our tea products. SuperValu enabled us to have tastings inside SuperValu stores and that is crucial for any food business, to have a chance to get in direct contact with potential tea consumers, to try food products and then make buying decision. With SuperValu we can approach our customers and present our products and story. It is nice to have products on the shelf but with SuperValu we got a chance to get even further to potential consumers with promotional tasting spots inside SuperValu stores.
As TrusTEA brand we try to motivate people to start living a healthy lifestyle, it is very important what you eat, what you drink, consume only the best quality Irish products, don't forget you are what you eat… Invest in yourself, invest in your body.
Maybe we can't help everyone, but if we manage to get our message about healthy lifestyle and consuming Irish top quality products only, then we are happy to be a part of somebody's new change and way of thinking, live a healthy lifestyle with healthy food only.