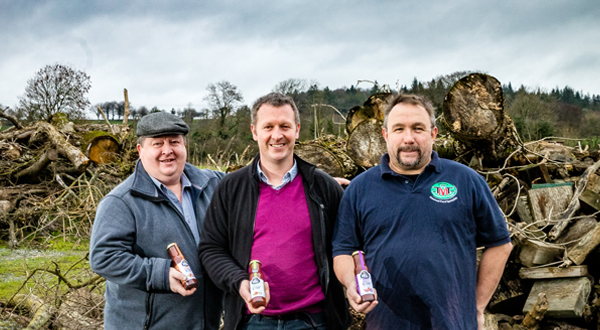 The concept behind Three Men in a Trailer Limited began when three guys passionate about food, particularly food from Tipperary, purchased a mobile food kitchen in 2013. Initially we used it to cater at festivals and concerts and then utilised it as a test kitchen for product development. As part of the product development in our test kitchen we created artisan ketchup and then expanded to create three ketchup varieties. We currently outsource the production of our ketchups at G's Gourmet Jams in Abbeyleix, Co. Laois.
Who are Three Men in a Trailer?
Eamonn Crowe is from Dundrum in Tipperary, he is a pork butcher;
JK Walshe is an Aberdeen Angus farmer from the Glen of Aherlow in Tipperary and JJ Healy is a lecturer in CIT with 28 years chef experience; he has a Masters in Food Product Development and is currently studying for his PhD (Researching Critical Success Factors for Restaurants).
We aspire to promote the health aspects of our ketchups; this is achieved without compromising the taste or ingredients of our products. Our ethos is supported by our success in the Great Taste Awards whereby our ketchup was awarded a Gold Star.
Supervalu Food Academy has provided us with the requisite knowledge and skills to enable me run our business from raw material through to the supermarket shelf.
We are helping the business sector by providing employment in the production of our ketchups. In terms of our customers we are helping them by providing ketchup which has the following USPs:
• Gluten Free;
• No artificial colours or preservatives;
• Low sugar (14%);
• Suitable for vegetarians;
• Fat free.