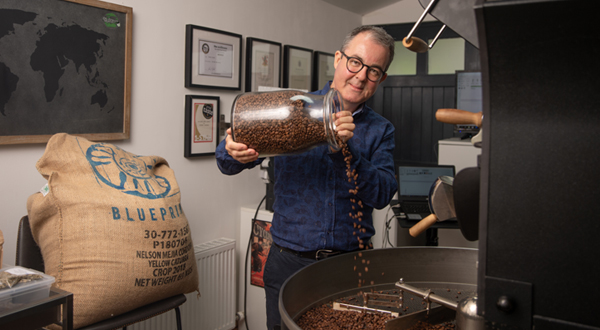 The Studio Coffee Roasters
Following a long career in pharmaceutical finance Alan Phillips founded the STUDIO coffee roasters in Bettystown, Co. Meath. In 2017 he trained at Koffieschool Amsterdam under industry expert Kees Kraakmann. He is now a certified member of the European speciality coffee association.
Alan has long been passionate about food and flavour, evidence of this is a certificate from the London wine & spirit education trust where the sensory & tasting skills honed for wine tasting are now redeployed when carefully selecting what coffees to buy and roast.
Although production only commenced in 2018, the product offering is impressive and unique in that he roasts and sells a range of 10 single origin speciality grade coffees from Africa & Latin America in ground, whole bean, capsule and cold brew forms. No other company in Ireland is doing that.
The quality on offer has not gone un-noticed either, his Ethiopian coffee won a UK great taste award in 2018, three coffees were honoured at the Irish food awards and more recently he was awarded a 2019 McKenna guide best in Ireland plaque.
Being part of the food academy has come at just the right time, providing an opportunity to learn from other producers, receive important retail mentoring and advice on a range of topics from finance, branding, packaging, selling and promotion. Meath enterprise has also helped with technical support grants for exhibiting at Belfast Titanic Exhibition Centre, Birmingham NEC and London Olympia.
The ethos of the company also extends into ethical and organic sourcing and there are plans this year to source direct from the farmer. The Studio's sustainable approach to coffee sourcing is mirrored at the roastery which is largely powered by renewable energy.