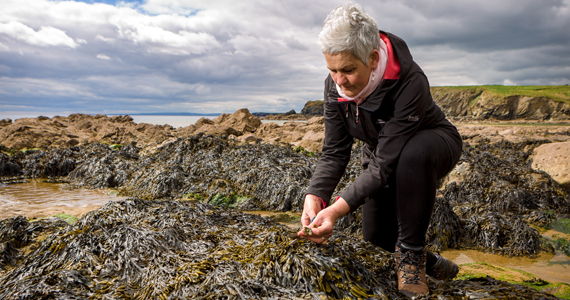 We began seaweed foraging in 2007 along the Copper Coast, Co.Waterford - on a voluntary basis - and it evolved into regular workshops and events for local festivals. The Sea Garden - a guide to seaweed foraging and cookery was published in 2013 and was so successful that a 2nd print run followed a year later. Requests for some of our seaweed-based foods followed and we began making Almond & Orange Bars in 2014, then Coconut & Lime Bars and Dilisk. 
We joined the Food Academy in 2014 in Waterford & Cork and it has helped us grow our business, reach new customers and through in-store tastings, we have met customers & staff and received valuable feedback which in turn has helped us develop / refine new products.
We are now in Kilkenny, Dublin, Tipperary & Wexford stores.
We have had people from all over Ireland come to our seaweed forages, increasing tourism in the area. The book, The Sea Garden, has been sold (online) on every continent except Antarctica and has raised awareness of seaweed as part of the food heritage of the south coast of Ireland.
We are delighted to be part of a growing and vibrant artisan food sector, made up of dozens of very small businesses run by passionate people and appealing to a public increasingly aware of food provenance, quality and keen to find local alternatives to factory-produced, adulterated and imported foods.