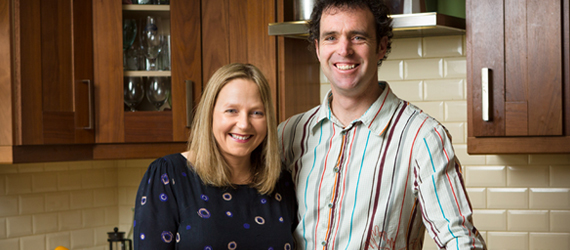 Rachel and Mark were both born and raised in Tramore, Co. Waterford. Together they have a keen interest in food, especially Indian cuisine. They would often test out new recipes on friends by having dinner parties and were often advised that they should go into business. After having their third child in 2012, they decided to follow their passion and embark on a new career path. Rachel completed a certificate in Artisan food development with business at Waterford Institute of Technology in 2013. 
They had identified a need for a quality, yet convenient, curry paste using fresh ingredients and without all the sugars and additives that you find in commercially available pastes. They developed a curry paste made entirely from natural ingredients which were sugar free, gluten free and dairy free and tasted fantastic. Thus in 2013, The Hartrey Kitchen was born.
They began selling their product at farmers markets initially and soon built up a good customer base while continuing to expand the product range.
In 2015, they took part in the Food Academy and they now have the opportunity to take their business to the next level. They will start by supplying SuperValu stores in Waterford and Tipperary and the hope is that they will soon be in the position to give back to the community by creating jobs in the near future.