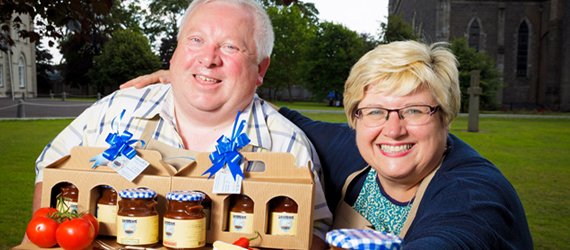 Having worked in both retail and hospitality for over 30 years, myself and my husband found ourselves redundant within a week of each other. I come from a farming background and Pat is excellent at sales, so we decided to test the market with baked goods, relishes and chutneys. All sold well, but from our research we found a public yearning for handmade, slow cooked chutneys and relishes, bringing back the flavours of childhood, when everything was made from fresh fruit and veg.
We travelled around local Farmer's markets and used this opportunity to develop our recipes, watching and listening to customer feedback and changing some products as many as 17 times!
We are passionate about the quality of our product. They are made from fresh fruit and veg and are entirely free from preservatives.
Having presented to the Food Academy Leaders, we were offered 6 Supervalu stores in the Wicklow area and since then have expanded extensively into the Dublin area.
We continue to do our weekly Farmer's markets and love hearing customers new recipes using our products.
We are delighted to be part of the Food Academy program.  We look forward to bringing our product to more stores in the coming year and expanding our workforce to do this.