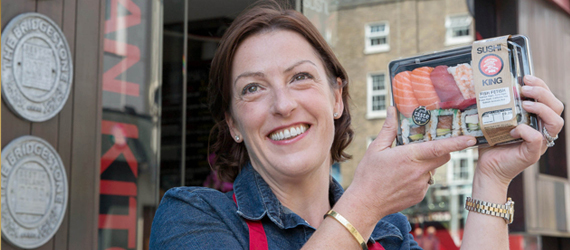 Lots of people think sushi is all raw fish – wrong! Sushi is anything wrapped or rolled in rice. A bit like a sandwich, sushi can have an endless array of fillings or toppings and comes in lots of different shapes and sizes.
Sushi King was founded by Audrey Gargan in 2006. After spending some time backpacking, Audrey got the taste for sushi. Upon returning home, Audrey realised that there was little sushi available in Ireland and that this might be a gap in the market worth exploring. Sushi King Baggot Street opened its doors on the 1st August 2006. The years have passed by and Sushi King is still going strong.
Sushi King is delighted to be participating in the Food Academy Programme. Through a very supportive relationship with the team at SuperValu, Sushi King has gained a deeper understanding of the customer and how to better serve them.
We feed the hungry masses at lunch time with our pre-packed sushi trays that are ready to go for people on the move. We are the tastiest canapé that you can offer your guests, we have fed the beautiful Elle Macpherson and even fuelled up the All Blacks and Springboks during their Irish campaigns. Sushi is for everyone. You just need to give it a try!