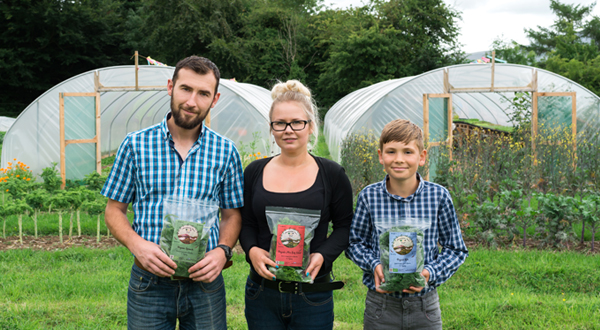 Slievenamon View Organic Farm
Slievenamon View Organic Farm is a family run certified organic farm.
Konrad Szeterlak, Monika Grabowska and their son David are living in Ireland for over ten years. Originally from Poland they fell in love with the beautiful Irish countryside and in 2017 they decided to start their Market Garden in the hills of Gurteen just outside Kilsheelan village in South Tipperary.
Before Konrad decided to start farming he worked in the SuperValu Clonmel for almost nine years where he went all the way from shop assistant to management position. Monika after attending a college course in Waterford started a successful career of a photographer which she still enjoys these days.
Slievenamon View Farm is Certified Organic by Irish Organic Association (IOA). It means that there are no chemical pesticides or fertilizers being use. Almost everything is done with hand tools and 'NO DIG' approach is in place. Using polytunnels allows growing to be possible all year round and applying very intensive growing techniques combined with maximum efficiency makes it possible to grow over a tone of greens from less than 0.5 acres.
Konrad's and Monika's main product is Organic Mix Leaf Salad. It's a mix of lettuce varieties, chard, rocket, purslane, oriental greens and seasonal leaves accompanied by edible flowers during the summer. Other products consist of spinach, kale, rocket, herbs and seasonal vegetables like courgettes and tomatoes. All of the greens are packed in the biodegradable and resealable bags.
Slievenamon View Organic Farm proves that agriculture can be environmentally friendly and is able to produce top quality products that are enjoyed by customers.
Follow Slievenamon View Organic Farm on Facebook, Instagram and Twitter.